By Vivienne Russell | 9 April 2013
Ministers today began consulting on a radical transformation of the legal aid system, including restricting access, slashing fees and introducing a competitive market for criminal cases.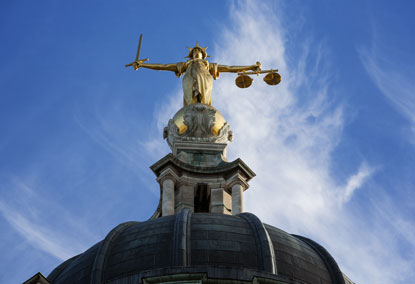 Justice Secretary Chris Grayling said the Transforming legal aid consultation would usher in a more efficient system, one that continued to provide access to justice for those who needed it and had the backing of the public.
Proposed changes to eligibility for legal aid include a household disposable income threshold for defendants in criminal cases, a residence test for civil cases and reduced funds for 'weak' judicial review cases. As was announced last week, prisoners seeking to challenge the terms of their detention will be barred from using legal aid and will instead have to go through the prison service's complaints system.
The consultation also recommends creation of a competitive criminal legal aid market. Individual law firms or groups of firms would bid on price for a share of the legal aid work in their area. Only Crown Court advocacy and Very High Cost (Crime) Cases (VHCC) would be excluded from this tendering model. According to the government's timetable, the first contracts would be put out to tender later this year, with contracts awarded in summer 2014 and due to begin in the following autumn.
Fees paid to barristers are also to be restructured in an effort to ensure more efficient working. For example, daily trial attendance rates will be tapered from day three. In addition, all VHCC rates are to be cut by 30%. Solicitors working on family public law cases will have their fees cut by 10% and fees paid to experts in civil, family and criminal cases will be cut by 20%.
In the consultation document's foreword, Grayling said: 'The principles which underpin these proposals are simple: to ensure that those who can afford to pay do so; to make certain that legal aid is not funding cases which lack merit or which are better dealt with outside court; and to encourage greater efficiency in the criminal justice system to reduce costs.
'The hard-working public pay for legal aid, and we must deliver a system which commands their confidence and spends their money wisely.'
Responding to the consultation's publication, Maura McGowan QC, chair of the Bar, welcomed the exemption of Crown Court advocacy from the competitive regime.
She added: 'Whilst tendering for Crown Court advocacy is not an option which is being consulted upon, that news comes alongside swingeing fee cuts, which will hit the criminal Bar exceptionally hard.
'The publicly funded Bar is a vital frontline service, which is already at breaking point. For those who have invested a decade or more in developing their skills and expertise, these proposals, alongside prosecution cuts, will be a particularly bitter pill to swallow.'
Lucy Scott-Moncrieff, president of the Law Society, which represents solicitors, said competitive tendering would lead to a 'huge reshaping' in the way justice was delivered. She told the BBC the move represented a 'huge, huge risk', while the government's timetable was unrealistic.
The consultation ends on June 4.