By Vivienne Russell | 8 April 2013
Disability campaigners have warned that more than half a million disabled people are set to lose out financially as benefit changes come into force this week.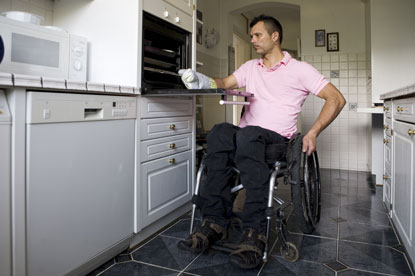 Starting today, the government begins replacing Disability Living Allowance with Personal Independence Payments. These require disabled people to undergo more regular assessments and tighten up some eligibility criteria. The new system is being piloted in the Northeast and Northwest of England.
But disability charity Scope warned that some people face cuts of £131 a week. It estimated that 600,000 disabled people would lose a total of £2.62bn in support over the next five years.
Scope said disabled people were worried that the government's changes were little more than a cost-cutting drive, with arbitrary targets in place to limit the amount of benefit paid out.
The role of private sector companies Atos and Capita in performing the fitness assessment is a further area of concern, given the controversy and the track record of Work Capability Assessments, also carried out by Atos. This assessment, for sick people claiming out-of-work benefits, has been criticised for declaring seriously ill people as fit for work and for high levels of successful appeals.
Scope chief executive Richard Hawkes called the reforms 'fundamentally flawed'. He said: 'DLA needs reforming and could be better targeted to meet the extra costs people face. But disabled people are frightened by the government's plans. They believe it's just an excuse to cut their support.
'It doesn't help that the minister is able to predict exactly how many disabled people will receive support before they have even been tested. This raises alarming questions that the government is working to arbitrary targets.'
Hawkes added that the assessment for Personal Independence Payments not only looked set to repeat the mistakes of the Work Capability Assessment, but also paid no regard to the barriers disabled people face in their daily life.
'If government is serious about a Paralympics legacy, where disabled people can fulfil their potential, they urgently need to reconsider their approach to welfare,' he said.
But disability minister Esther McVey disputed Scope's claims, saying Personal Independence Payments would ensure help reached those most in need. She said it was time that the DLA, introduced in 1992, was reformed to reflect the current understanding of disability.
'At the moment the vast majority of claimants get the benefit for life without any systematic reassessments and around 50% of decisions are made on the basis of the claim form alone – without any additional corroborating evidence,' she said.
'The Personal Independence Payment will include a new face-to-face assessment and regular reviews – something missing in the current system. This will ensure the billions we spend give more targeted support to those who need it most.'
Pips are being phased in slowly, beginning in the Bootle benefit centre, which will process claims from Merseyside, Northwest England, Cumbria, Cheshire and Northeast England. From June, new claims will begin in the rest of the country.
Current DLA recipients will not be automatically shifted onto Pips but will have to reapply and be assessed. This process begins in October for those who register a change in circumstances or whose existing award comes to an end. Most existing DLA claimants will not be reassessed until 2015, the Department for Work & Pensions said.