By Richard Johnstone | 22 March 2013
Plans to establish Community Budgets across England have taken a step forward after the government wrote to councils offering help to pool local ­funding across the public sector.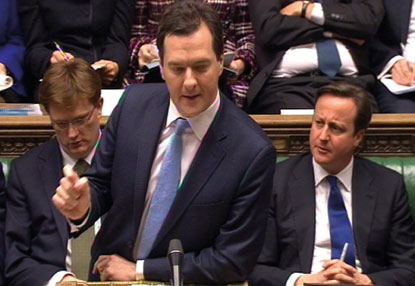 A letter, seen by Public Finance, was sent the day after Chancellor George Osborne pledged to 'drive the transformation of local public services' through the expansion of pooled spending initiatives in his March 20 Budget. In his statement, he announced further cuts to local government spending of 1%, although these will not kick in until 2014/15.
The letter, from local government minister Brandon Lewis, said 'whole place' Community Budgets could 'deliver better outcomes at lower cost'. He has asked councils to submit expressions of interest to join a new 'multi-agency ­network' to share learning from the ­existing four Community Budget pilots.
Lewis's letter stated that the network would be dedicated to 'removing policy barriers that hinder reform' and would be based on the experiences of the four pilot areas: Cheshire West & Chester council; the Greater Manchester combined authority; the west London tri-borough project; and Essex.
Councils will be given support to develop new pooled spending initiatives if they meet six criteria. These include demonstrating a history of joint working and showing that each can provide ­funding towards the scheme.
The network would allow the ­government to work with councils to 'co-design practical reforms', Lewis added. It would 'use the learning from the whole place Community Budget pilots… and work with other places to redesign services to support better outcomes for the public and boost growth'.
The Local Government Association welcomed the initiative. Sharon Taylor, chair of the group's finance panel, said Community Budgets could lead to 'much more effective spending' in local areas.
However, these schemes needed ­careful planning and 'radical thinking about core public spending', so may take time to develop, she added.
Taylor also told PF the additional spending cuts could place more town halls in financial difficulty. Asked if these cuts – on top of the 2% reduction announced for 2014/15 in December's Autumn Statement – would lead to further cases of distress, Taylor confirmed it was likely. Councils had taken a 'major hit' since the government came to power, and the LGA would be undertaking a survey of authorities to assess the impact on their financial health.
'There will be authorities whose finances are very marginal already and there will be councils where it will be very significant,' she added.
Other commentators told PF the additional cuts would lead to an increase in shared services and could even ­reopen the debate about local government reorganisation.
Ian Washington, local and regional government partner at Deloitte, said the latest cuts meant that councils, which had managed spending reductions well to date, faced a 'huge' challenge.
'Local authorities haven't had the ­experience of taking cost out to this extent. It's going to get harder and harder to do that, so it'll shift then onto what needs to be done on the front line.'
However, increasing use of shared services between authorities, as councils attempt to make these savings, would 'reopen that debate about structure and options [in local government] as we can't continue the way we are', he added.
'It's a very difficult thing, politically, to do. The tension there is how do you manage that political dimension, with areas wanting to keep their identity, versus the savings they need to make.'
New Local Government Network ­director Simon Parker said shared services – such as the London tri-borough scheme between Westminster, Hammersmith & Fulham and Kensington & Chelsea c­ouncils – were contributing to an 'organic reorganisation of local government'.
'I think that's the right way to approach it. We do have sharing across the country, and we are seeing changes on the ground. If you do have tri-borough arrangements do we need lots of councillors? That's not to say that the question will be answered 'yes', but it will be asked.'
The Budget also confirmed additional spending cuts of 1% on unprotected parts of the public sector for 2013/14. However, councils have been spared these reductions, as their allocations had already been set. Savings from these cuts will be used to boost capital spending from 2015/16, Osborne said.