By Richard Johnstone in Birmingham | 8 October 2012


The government will cut another £10bn from the welfare budget within four years, targeting housing benefits for young people and payments for children, George Osborne told the Conservative Party conference today.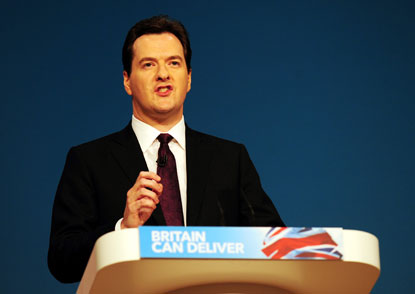 The chancellor's announcement follows his disclosure in a weekend interview that the government will offer English local authorities money for a third successive council tax freeze. Details of the offer are expected to be revealed by Local Government Secretary Eric Pickles later today. Pickles will also announce that the level of council tax rises requiring a local referendum will be lowered from 3.5% to 2%.


Osborne told the conference that further welfare cuts were needed to ensure other departmental budgets could be protected beyond the end of the current Spending Review.
He said the coalition's published plans for a further two years of spending cuts from 2015/16, first set out in last year's Autumn Statement, required '£16bn of further savings'.
Work and Pensions Secretary Iain Duncan Smith has now agreed to find £10bn of savings 'by the first full year of the next Parliament', Osborne revealed. But he would continue to introduce the new Universal Credit, which merges many existing benefits.
Osborne said the reductions were 'not just about the money' but were needed to encourage 'fairness and enterprise'.
Other changes could  include linking annual increases in benefits to wages rather than to inflation. 'How can we justify the incomes of those out of work rising faster than the incomes of those in work?' he asked.
'How can we justify giving flats to young people who have never worked, when working people twice their age are still living with their parents because they can't afford their first home? How can we justify a system where people in work have to consider the full financial costs of having another child, whilst those who are out of work don't?'
However, the chancellor ruled out levying a wealth tax to fill the funding gap, saying he was 'determined' that 'the great bulk of savings must come from cutting government spending not increasing taxes'.
He added that a temporary wealth tax, which has been advocated by the Liberal Democrat coalition partners, 'make no economic sense' and would 'destroy jobs'.
He added that the government's deficit reduction plan 'have brought us stability, but they only cover the next two years'.
He added: 'We must now take some very serious decisions about what we do after that.
'The broadest shoulders will continue to bear the greatest burden. But I am not prepared to contemplate things that make no economic sense and destroy jobs. So we won't have some kind of temporary wealth tax.'
Responding to the chancellor's speech, Institute for Public Policy Research Director Nick Pearce said it had 'all but confirmed that Housing Benefit will be withdrawn from under-25s'.
However, he added that it wasn't obvious that 'huge sums' could be generated by the move, or by restricting Child Benefit or Child Tax Credit for workless families with more than three children.
On the council tax freeze, Local Government Association chair Sir Merrick Cockell said: 'Any help for councils is a good thing, but we have to be clear that this is a short-term offer. It doesn't address the huge long-term pressures councils are facing, including bigger cuts than any other part of the public sector and an immediate and growing crisis in funding care for the elderly.'