By Richard Johnstone | 4 September 2012
Jeremy Hunt has replaced Andrew Lansley as health secretary as part of Prime Minister David Cameron's first major reshuffle of ministers.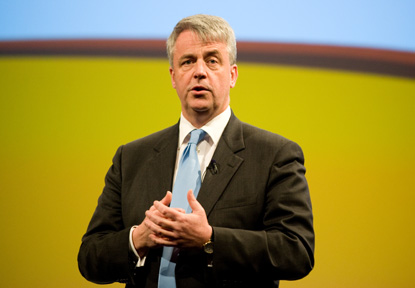 Deputy Prime Minister Nick Clegg and Chancellor George Osborne remain in post, as do nine secretaries of state, including the Home Office's Theresa May and local government's Eric Pickles.
Lansley, who led the government's controversial reforms to the NHS in the Health and Social Care Act, becomes leader of the House of Commons.
Other senior ministerial changes include Chris Grayling replacing Ken Clarke as justice secretary, and former chief whip Patrick McLoughlin taking over from Justine Greening as transport secretary.
Greening is the new international development secretary, replacing Andrew Mitchell, who becomes chief whip. Clarke has been appointed as a minister without portfolio with a new economic advisory brief.
Among those leaving the government are: environment secretary Caroline Spelman, who is replaced by Owen Paterson, and Welsh secretary Cheryl Gillan, whose post has been taken by David Jones.
Paterson's previous role as Northern Ireland secretary has been taken by Theresa Villiers, who was transport minister.
Local Government Secretary Eric Pickles remains in post, although housing minister Grant Shapps has been promoted to Conservative Party co-chair. His replacement in the Department for Communities and Local Government is Mark Prisk, who had been business minister.
Former chief secretary to the Treasury David Laws, who resigned from the coalition administration in 2010 after just 17 days following controversy over his expenses, returns to government. He has been appointed a joint minister of state operating between the Department for Education and the Cabinet Office.
But the biggest change has been Lansley's removal as health secretary. The NHS changes that he steered through will replace primary care trusts with GP-led clinical commissioning groups and open up service provision to different providers. Some of the medical groups opposed to the changes, which included the British Medical Association, and the Royal College of Nursing and Royal College of Midwives, cautiously welcomed the new health secretary.
RCN general secretary Peter Carter said that the college had 'not seen eye to eye with Andrew Lansley' over the reforms and was now 'looking to work with incoming secretary of state Jeremy Hunt, to ensure that the nursing voice is heard'. There were 'profound challenges facing health', he said, such as the need to save £20bn from across the NHS in England and staff being asked to do more with less.
But Unison head of health Christina McAnea said: 'Changing the name over the door will not change our opinion of the Act', which she said was the most damaging piece of legislation that the NHS has ever seen'.
She added: 'It is about policies, not personalities – and our opposition will continue as long as this Tory-led coalition's assault on our NHS persists.
'Jeremy Hunt has an opportunity to listen to patients, professionals and unions about the damage the Act will continue to do to the NHS. Let's hope he does not waste it.'
NHS Confederation chief executive Mike Farrar said that Hunt was 'taking on a critical brief at a critical time'.
Top of his in-tray should be making sure the NHS is financially sustainable for the future and fit to respond to the needs of our changing population, Farrar said.
'The NHS reforms are important, but we must keep our eye on the long-term issues the NHS is facing – an ageing population, and growing rates of obesity. Driving change in these areas will be the big test of the success of this government.'
Full list of Cabinet ministers (* denotes change)
Prime Minister
: David Cameron
Deputy Prime Minister
: Nick Clegg
Chancellor of the Exchequer
: George Osborne
Foreign Secretary:
William Hague
Defence Secretary:
Philip Hammond
Chief Secretary to the Treasury:
Danny Alexander
*Lord Chancellor and Secretary of State for Justice:
Chris Grayling
Home Secretary and Minister for Women and Equalities:
Theresa May
Business, Innovation and Skills Secretary:
Vince Cable
W
ork and Pensions Secretary:
Iain Duncan Smith
*Health Secretary
: Jeremy Hunt
Education Secretary:
Michael Gove
Energy and Climate Change Secretary:
Edward Davey
Communities and Local Government Secretary:
Eric Pickles
*Transport Secretary:
Patrick McLoughlin
*Culture, Olympics, Media and Sport Secretary:
Maria Miller
*Environment, Food and Rural Affairs Secretary:
Owen Paterson
*International Development Secretary:
Justine Greening
Secretary of State for Scotland:
Michael Moore
*Secretary of State for Northern Ireland:
Theresa Villiers
*Secretary of State for Wales
: David Jones
*Minister without Portfolio (Co-chair of the Conservative Party)
– Grant Shapps
*Minister without Portfolio
– Ken Clarke
Leader of the House of Lords, Chancellor of the Duchy of Lancaster
– Lord Strathclyde
*Leader of the House of Commons, Lord Privy Seal
– Andrew Lansley
Minister for the Cabinet Office, Paymaster General
– Francis Maude
Attorney General
– Dominic Grieve QC
*Solicitor General
– Oliver Heald
*Chief Whip (Parliamentary Secretary to the Treasury)
– Andrew Mitchell