By Richard Johnstone in Brighton | 24 September 2012
Business Secretary Vince Cable today announced £1bn in government funding for a state-backed 'British Business Bank' to increase lending to small- and medium-sized firms.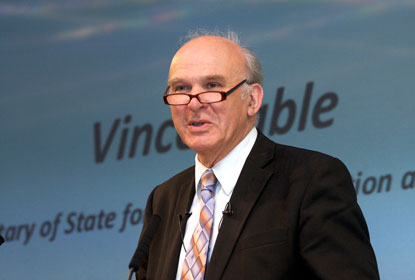 Cable told the Liberal Democrat party conference in Brighton that the new bank will have 'a clean balance sheet and an ability to expand lending rapidly to manufacturers, exporters and high-growth companies'.
The bank, which was first proposed earlier this month as part of a new 'industrial partnership', will also have a private sector capital contribution of more than £1bn. 
The bank will use existing government guarantee schemes to leverage up to £10bn in financial support. This would represent 'a significant portion of all the lending available' to all businesses in Britain, Cable added. 
The new bank forms part of a new 'industrial strategy' that will set 'a positive and ambitious vision, built around long-term investment and innovation, in skills and science'.
Cable told delegates: 'We are so good at so many things in this country – but for too long the mirage of growth based on property speculation and financial gambling has hidden the harder virtues of making things productively. We must get behind successful British-based firms in vehicles, aerospace, life sciences and creative industries and our world-class scientists and universities.
'There are some common threads: understanding that markets fail and that governments can sensibly intervene and support enterprise; and a will to fight the British curse of short-termism – both in the corporate world and government.'
When the proposal for the bank was first announced, the government said it had not yet decided on the scale and operation of the institution. However, it could operate through what Cable has called the 'challenger banks', such as the Co-operative. These are the companies that are taking on the 'Big Four' established banks – HSBC, Royal Bank of Scotland, Lloyds Banking Group and Barclays.
Chief Secretary to the Treasury Danny Alexander earlier told the conference that the industrial strategy would 'support British industry after decades of decline under Labour and Conservative governments'. 
Speaking in a debate on generating growth and jobs in a time of time of austerity, Alexander added that the plan would give businesses the 'confidence to grow'.
Responding to the announcement, the CBI said that 'bringing together all existing support into a one-stop shop, and by increasing the supply of capital to firms that want to grow long term, the business bank has the potential to support lending and help small and medium-sized businesses to grow'.
Director general John Cridland added: 'The bank could also play a vital role in packaging up and selling debt from medium-sized companies, allowing them to access vital finance streams.
'The government must now work swiftly to get the bank up and running so that it can start helping small and medium-sized businesses as quickly as possible.'