By
Vivienne Russell
| 24 August 2012
The economic contraction in the second quarter of the year was not as deep as first estimated, according to revised figures issued today by the Office for National Statistics.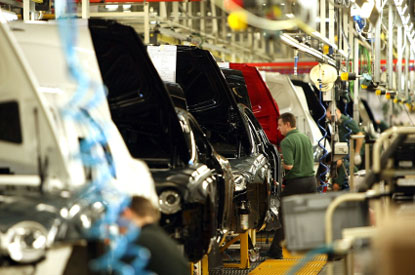 Gross domestic product shrank by 0.5% over the three months to June, less than the
0.7% initially estimated
.
Output fell by 3.9% in the construction sector, and by 0.9% in the production industries. The service industries fared less badly, with a 0.1% drop.
While the contraction is shallower than first thought, it is still the third successive quarter of negative growth, confirming that the UK remains in a double-dip recession.
The last time the economy grew was in the three months to September 2011, when 0.6% was recorded.
Andrew Goodwin, senior economic adviser to the Ernst & Young Item Club, said the figures were 'bang in line' with what was expected given the revisions to production and construction output published earlier in the month.
'We still expect a substantial rebound in Q3 as the impact of the extra bank holiday in Q2 unwinds and, with a minor boost likely to come from hosting the Olympics as well, we should see growth more than offset any losses in Q2,' he said.
Goodwin added that there were some 'real oddities' in the detail of the figures. Rising employment figures seemed to be at odds with the weak and contracting economy described by the ONS's GDP figures.
'It's fair to say that we are still extremely sceptical about the picture that the GDP data is painting,' he said.
'We've been in this position of having puzzlingly weak GDP data several times before, most recently in 2009, and history tells us that we shouldn't be surprised if we see this data revised in the future. Although it may take several years before these revisions have fully worked through.'