By Vivienne Russell | 25 July 2012
The UK economy has contracted for the third successive quarter, with output falling by 0.7% in the three months to June this year, according to the Office for National Statistics.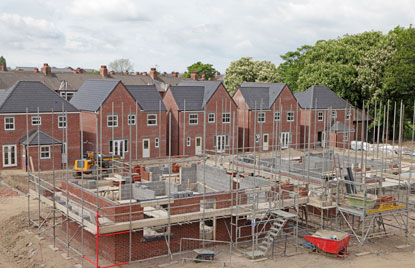 Figures published by the ONS this morning confirm that the country remains in a double-dip recession, prompting calls for the government to ditch its austerity strategy.
Weaknesses in the production, services and construction sectors were largely responsible for the contraction, the ONS said. Construction output fell by 5.2% compared with the first three months of the year. In volume terms, gross domestic product was 0.8% lower than it was in the second quarter of 2011.
The ONS said it was 'not possible' to quantify the impact of the extra Jubilee bank holiday at this stage, although further analysis on this will be carried out. It added that the bad weather experienced for much of the quarter might have also had an impact on some sectors.
Chancellor George Osborne said the 'disappointing' figures confirmed the country's deep-rooted economic problems.
He said: 'We're dealing with our debts at home and the debt crisis abroad. We've made progress over the past two years in cutting the deficit by 25% and businesses have created over 800,000 new jobs. But given what's happening in the world we need a relentless focus on the economy and recent announcements on infrastructure and lending show that's exactly what we're doing.'
The Institute for Public Policy Research said the scale of the contraction was bigger than expected and showed that the country remained 'mired in recession'.
Chief economist Tony Dolphin said: 'There is now little chance of the Office for Budget Responsibility's forecast of 0.8% growth in 2012 being achieved.'
He urged Osborne to take 'immediate steps to implement a combination of Keynesian and supply-side policies to get the economy growing again'. These should include tax cuts and infrastructure spending and would necessitate some short-term borrowing.
Trades Union Congress general secretary Brendan Barber said the government's austerity strategy was 'failing so spectacularly that it had wiped out the recovery completely'.
He added: 'Ministers cannot just repeat the same old excuses – Europe, bank holidays and the previous government – for the economic mess they are presiding over. They need to change course as their policies are causing permanent damage to our economy.'
But Andrew Goodwin, senior economist to the Ernst & Young Item Club, said the Jubilee holiday had 'wreaked havoc with the data'.
He added: 'The ONS has effectively said that output fell by almost 3% across the whole economy between May and June because of the movement of the late-May bank holiday and the extra one in June. But the experience of 2002 [Golden Jubilee] would suggest that the vast bulk of these losses will have been made up in July and, when you also factor in the Olympics effects, we should see a bumper quarter 3.'