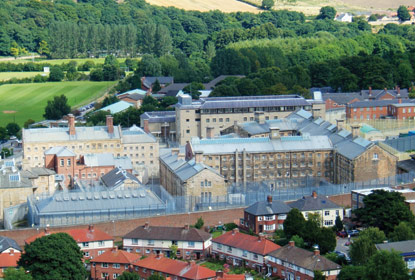 There are few parts of the public sector now left unaffected by the doctrines of competition and contestability. From auditing to welfare, the plan to open up public service provision to private and third sector operators has well and truly kicked in.
Even the politically sensitive area of offender management is not immune. Last summer, the Ministry of Justice launched its competition strategy, which could offer private providers a much greater share of the prison market.
Private prisons have been operating since the early 1990s. Three providers – G4S, Serco and Sodexo – now manage 14 private prisons in England. A tender process, currently under way, will contract out eight more public prisons to private operators. A ninth, G4S-run Wolds, is being re-tendered. Contracts are expected to be awarded in November.
These tenders mark the first phase of the MoJ's Competition strategy for offender services, published last July. Opening up offender management services to competition will become the government's default position under the plan. Justice Secretary Ken Clarke says: 'The guiding principle for offender services will be that competition will apply to all services, rather than as a means to select providers for new services or to address poor performance.'
Contracts will be focused on outcomes. Payment by results – already in use at Doncaster and Peterborough prisons – will be extended, a move that will 'drive innovation and ensure better value for money', Clarke says.
It might also lead to some new firms entering the market. Interserve is aiming to secure some contracts and Mitie is partnering with the Prison Service to bid for the running of all nine prisons.
Yvonne Thomas is the former operations director at the National Offender Management Service and has since joined Interserve as managing director of its justice division. She acknowledges that the focus of the outsourcing tenders is cost, but adds that it also presents an opportunity to 're-engineer parts of the system in manageable chunks'.
She tells Public Finance: 'It will lead to some significant innovation in the way we reduce re-offending at lower cost.'
Interserve has submitted bids for three of the nine prisons – Durham, Onley and Wolds – and Thomas says taking over only a small slice of the prison estate makes genuine transformation of these prisons a realistic prospect.
'Changing three prisons is an awful lot easier than changing 135,' she says. 'You can put in different systems from the ones the Prison Service uses, you can put in different linkages and you can form strong local partnerships. You can do these things more quickly and more easily because you're not constrained by a lot of rules, regulations, financial and political constraints that the public sector is subject to.'
But Juliet Lyon, director of the Prison Reform Trust, warns that the MoJ's emphasis on value for money must not turn into a cost-cutting exercise and an 'inevitable race to the bottom'.
She says: 'Costs per place are rumoured to be as low as £11,000 in one particular bid. If that's true, it contrasts starkly with £45,000, which is the current average. The MoJ needs world-class commissioners to see past the rhetoric of highly experienced bidders and scrutinise bids to make sure that they lead to the outcomes we all want to see.'
Lyon observes that the justice secretary's objective is to reduce prison numbers and questions how greater involvement of commercial operators fits with that. 'Will increasing the level of vested interests in the justice system in general, and prisons in particular, lead to pressure to grow a market that arguably should be shrunk?'
For Lyon, outsourcing more prisons to the private sector might lead to more innovation, improved management and a more business-like approach – 'that's all to the good'. But she adds: 'Whether the threat of privatisation is the only way to improve practice remains a question because it's a bruising approach.'
So are private prisons better and more innovative than their public sector counterparts? How do they differ? A research team at the University of Cambridge's Prisons Research Centre has attempted to answer those questions by measuring prisoner quality of life.
Ben Crewe, the centre's deputy director, says the private prisons the team looked at ranged from the 'very good' to the 'really quite bad'. He highlights some interesting differences between the cultures of public and private prisons. Whereas staff in private prisons tended to have softer interpersonal skills and more benign attitudes towards prisoners, they were less good at using their authority effectively.
'Prisoners want staff to be knowledgeable, confident, experienced and so the problem you get quite often in private sector prisons is that staff are friendly but they're not always "professional",' Crewe says.
A strength of public sector prisons that is not always recognised is that their staff tend to be more experienced and use their authority fairly, consistently and with confidence, he says. Policing prisoner activity also tends to be stronger in public prisons, which is important in helping prisoners feel safe and secure.
Crewe points out that a low-cost model of prison management could well undermine professionalism. He says that staff are the main cost in prison and the private sector cuts costs by reducing employee numbers.
'It's not inevitable that fewer staff means you have fewer good prisons, but it just increases the risks of all of the underlying problems,' he tells PF.
Rather than combining the current strengths of both sectors, Crewe predicts it is more likely that the outsourcing will result in the worst of all worlds: a loss of professionalism and policing in the public sector, and a transfer of demoralised and resentful staff into the private sector.
But Thomas says the debate shouldn't be characterised as one of public versus private. What matters, she says, is identifying the characteristics of a good prison and designing a service based on that. 'I'm convinced that's not a public versus private debate. It's about willingness to use evidence to design your service,' she says.
With the number of private prisons set to increase, Thomas predicts the walls that have hitherto separated them from the wider public sector will begin to be dismantled. Privately run prisons will become increasingly embedded in the prison system, and public and private will have to start working together.
'We wouldn't want to displace some of the professionalism [that exists in the public sector], particularly in the probation community. But on the custodial side, we can't see any downside between further integration between the public and private sectors.
'There is already a grudging series of agreements between the public and private sectors and those will grow. There's no point in having a private sector alongside a public sector unless it's mutually beneficial.'