By Richard Johnstone | 3 April 2012
Surrey County Council's decision to run some of its libraries entirely with volunteers was ruled unlawful in the High Court today, in the latest legal challenge to local government spending proposals.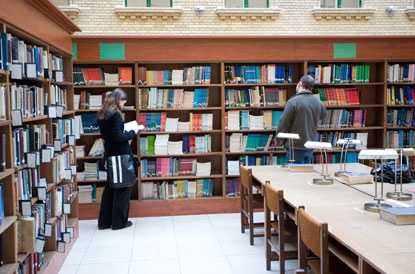 In a judical review brought against the council's plans to remove staff from ten libraries, the judge found that the council did not take account of the equality issues raised by the move.
He will decide whether to make an order quashing the plans at a future hearing.
Two Surrey residents, Lucy Williams and Nicholas Dorrington, brought the case after the council's Cabinet proposed last September that 'library provision in ten areas be delivered via the community partnership model'. This would involve the council providing the library building and stock, but with all staffing being provided by local volunteers.
Williams and Dorrington said that the decision to introduce the change did not comply with the Equality Act 2010. This requires authorities to give 'rigorous regard' to how removing paid staff would affect the accessibility of libraries to protected groups, including children and elderly or disabled people.
The claimants said that when the decision was taken, officers made only a short reference to training volunteers, without analysis of what was required, or if it was possible to mitigate the impact of removing paid staff.
Mr Justice Wilkie, who heard the claim over two days last month, said in his judgment that 'the reliance by the defendant on the same bland assertions that training would be required and monitored… fell substantially short of enabling the Cabinet members to give due regard to this obvious equality issue at the stage the process had reached in September'.
He added that 'accordingly in my judgment, the claimants have succeeded in establishing that the decision of the September 27 2011 was unlawful.'
Public Interest Lawyers, who represented Williams and Dorrington, said the judge's final decision on whether to quash the plans altogether will likely be in May.
The case follows last year's ruling that Birmingham City Council's plans to cut social care for some disabled adults was unlawful. Judges in that case decided the council had breached its duty to give proper consideration to the impact on disabled people, as required by the Disability Discrimination Act 1995.
Phil Shiner, a lawyer at Public Interest Lawyers, said today's decision was 'a sharp reminder to local authorities up and down the country that a need for budget cuts is not an excuse for cutting local services without careful consideration of how such cuts will impact upon vulnerable groups'.
He added: 'In this case, it was clearly unlawful for Surrey County Council to remove all paid staff from ten libraries whilst dismissing the impact of such a change with vacuous assertions that all problems will be cured by training for volunteers.'
However, the council said that the proposal could still go ahead. In a statement, it said that the judgment had not criticised the plan but had upheld a 'technicality' that the council's Cabinet should have had more information about equalities training for volunteers when it made its decision.

Ahead of the further judgment in May, the plans for 'community-partnered libraries' will continue, Helyn Clack, Cabinet member for community services and the 2012 Games, said.

'Today's decision is no reflection on our plans for communities to run local libraries with support from the county council.

'Our aim all along has been to keep all Surrey's libraries open and help them thrive, while elsewhere in the country branches are closing. We've listened to disability groups to develop training programmes for volunteers from the start and the judge recognised this.'