By Vivienne Russell | 28 March 2012
Every young person out of work for more than a year should be given a publicly funded 'Youth Job Promise', according to the independent experts examining last summer's riots.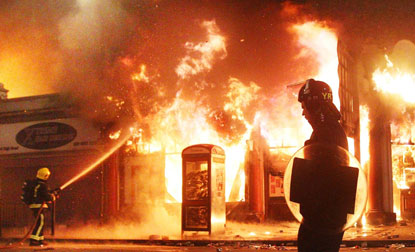 The Riots Communities and Victims Panel issued its final report today. The panel, set up by Prime Minister David Cameron in the wake of the disturbances in many English towns last August, made a total of 53 recommendations. Chiefly focused on Whitehall, councils, schools and justice agencies, these set out the action needed to support families with problems, excluded children and young people not in education, employment or training (Neets).
Among the more eye-catching recommendations were fines for schools that fail to teach children to read or write. Schools were also urged to assume responsibility for developing the 'character' of their pupils.
Local authorities should 'immediately' publish statements on the work they are doing on family intervention, setting out both the evidence base behind their decisions and what they hope to achieve. The report said families weren't getting the support they need and called for government and local public services to develop a strategy incorporating the principles of the Troubled Families Programme to help 500,000 'forgotten families' turn their lives around.
Councils with high numbers of Neets should also work with other public sector partners, businesses and third sector organisations to develop 'Neet hubs'. These would ensure all appropriate young people in an area were successfully targeted.
Government and local public services should together fund the 'Youth Job Promise' scheme to get young people a job, when they have been unemployed for a year.
Darra Singh, who chaired the panel, said: 'We must give everyone a stake in society. There are people "bumping along the bottom", unable to change their lives. When people don't feel they have a reason to stay out of trouble, the consequences for communities can be devastating – as we saw last August.'
He added that no single policy change would prevent the riots from happening again, but said that, 'taken together', the panel's recommendation could address why 15,000 people were drawn into the violence.
Cities across England were afflicted with outbreaks of violence and looting last summer. The disturbances affected most London boroughs, as well as Greater Manchester, Merseyside and the West Midlands.