By Vivienne Russell | 14 March 2012
Public sector employment fell by 37,000 between September and December last year, according to official figures released today.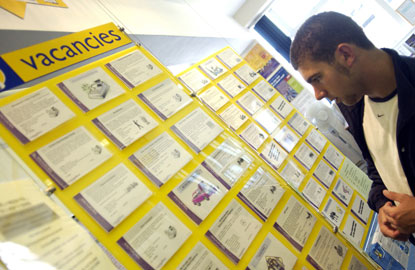 There are now 5.94 million people working in the public sector, the lowest number since June 2003, the Office for National Statistics said.
This contrasts with employment in the private sector, which grew by 45,000 over the same period.
Over the three months to January, the overall unemployment rate hit 8.4%, the highest level since November 1995. There were 2.67 million unemployed people, a rise of 28,000 on the previous quarter but the smallest quarterly increase since the three months to May 2011.
Growth in employment came largely through a 60,000 increase in part-time workers in the quarter, compared with a rise of just 3,000 in full-time employees.
Employment minister Chris Grayling said the figures were 'encouraging' and included 'signs that the labour market is stabilising'. But he added: 'There is clearly still a big challenge ahead to bring down unemployment and get people back to work.'

The Work Foundation think-tank said there were very few signs that the job market was beginning to pick up and that the drop in full-time work was 'particularly worrying'.
Researcher Andrew Sissons said: 'Without a rapid turnaround in the economy, we will see unemployment grow further over the coming months. This unemployment problem will take many years to reverse, and may turn into a long-term structural issue. Stemming the unemployment crisis should be the chancellor's top priority in the Budget.'
The Trades Union Congress said part-time jobs were not paying enough to cover the full-time earnings people needed.
General secretary Brendan Barber said: 'Over a quarter of a million public sector jobs were lost in the last year and the private sector recovery we were promised is not materialising.
'Tackling the jobs crisis should be at the centre of the chancellor's Budget next week. Bold new measures such as a youth jobs guarantee and tax breaks for investment are needed to get our economy growing again.'
Matt Gascoigne, executive director at recruitment consultancy Badenoch & Clark, said the public sector was 'bearing a considerable brunt of the pain', adding that the housing sector had been hit particularly hard.
The ONS bulletin also revealed that the growth rate for public sector earnings fell from 1.7% to 1.3%, the lowest figure since comparable records began in 2001.
Total pay, including bonuses, was 1.4% up on a year earlier, but down 0.5 on the three months to December.