By Richard Johnstone | 28 February 2012

MPs and councillors have put out to consultation a draft code that aims to confirm councils' statutory powers and their independence from central government.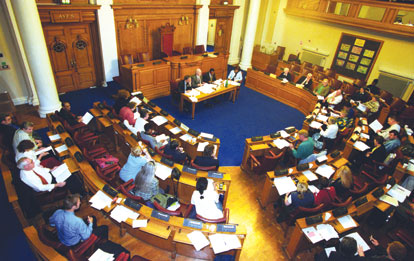 It was a day that may be remembered as the start of a major constitutional reform that could lead to a historic step forward in the powers of local government.
On February 9 in the House of Commons, the political and constitutional reform select committee launched its push for councils in England to be given a legally defined role in the country's governance. 
Working with the Local Government Association, the committee has produced a Draft code for central and local government that aims to confirm in statute the functions, roles and duties of local government for the first time.
Speaking as he launched the four-month consultation, committee chair and Labour MP Graham Allen said the proposals would establish 'free and independent local councils in England', with a range of financial powers cemented in law.
The campaign for a binding statutory agreement between central and local government takes its cue from the government's own plans. The Localism Act has given councils a range of new powers and the Local Government Finance Bill will see councils retain their locally raised business rates.
These powers represent a 'high water mark' in the recent history of local democracy, Allen says. But he warns that the settlement might not stay the same indefinitely. 
'History tells us that when there is a high water mark, often there's subsequently slippage. [Civil servants] start to claw back to the default position of the centre telling local government what to do,' he says.
Allen believes the alternative to this is to put the new relationship on a statutory footing by codifying local government as constitutionally separate from Whitehall and, where possible, go further.
'Going further, in my opinion, is having localism defined constitutionally, so that we are very clear about local rights and what they [councils] can do,' he says.
The preamble of the Code states this intention: 'Parliament makes plain that within their spheres of competence, local councils have co-equal – not subordinate – status to central government and that their rights and duties shall enjoy equal protection in law.'
Reworking a phrase from the constitutional debate in Scotland, Allen calls this 'localism max'.
Following the consultation, the campaign will have a fresh push with a call at the LGA annual conference in June for the Code to be adopted by central government and passed into law during the second half of the current Parliament.
Allen notes that the 'independence' of local government would put England at the same level as 'every other democracy in the western world'.
Sir Merrick Cockell, LGA chair, shares this sentiment. Speaking to
Public Finance
, he highlighted the need to address the current overly centralised system. He says that 'in other countries, they are horrified that we have no real constitutional settlement, and how decisions are taken so centrally'.
This is a chance for local government to become more proactive, he says.
Councils increasingly recognise that the existing system is 'not the best way to run so many of our public services'. The consultation would examine whether codification is the right answer to this problem, he says.
'I certainly think that we need to move beyond things being done to us by a centralised state. We should have a vision for the future of local government. Central government and Parliament should have its responsibilities, and the whole variety of local government should have its own distinct responsibilities.'
The key issue for the consultation will be reaching agreement across local government on the Code, including its wording. Indeed Cockell admits that, before he became LGA chair, he gave evidence to Allen's committee arguing against the ideas of codification. Cockell says he was challenging 'an assumption that if we could just write something down, that would be the solution'.
The difficulty of reaching an agreement across England is also flagged up by the author of the draft text, Colin Copus, director of the Local Governance Research Unit at De Montfort University in Leicester. He acknowledges that there is no single vision. 'We tend to talk about local government as if it's a uniform thing, but in England there are 352 councils, and no one position on this issue.'
However, Copus says there is now a chance for agreement to be reached to establish councils as bodies with their own democratic mandate, as the issue crosses party boundaries. 'The fault line is between localists and centralists in the three main political parties,' he says.
An acknowledgement of authorities' democratic mandate was missing in the most recent attempt to define the functions of national and local bodies, the Central-Local concordat of December 2007. 'The flaw with that was it didn't cover many of the things that we are talking about. It views local government primarily as a service delivery, not a governance, body.'
Indeed, he warns that the fate of this little-known document, which has not always been adhered to in Whitehall, exemplifies the potential of 'slippage' from the gains of localism.
In addition to the constitutional enhancement of town halls, the Code plans extensions to financial powers. Councils would be able to introduce any new taxation if approved by a local referendum, and there is also a proposal for a guaranteed element of income tax to be apportioned to councils.
Some local government experts have told
PF
that they are most sceptical about this element, which could muddle and slow the implementation of the wider constitutional change. But Copus calls the tax proposal 'totemic' to ensuring permanent reforms.
It represents an attempt to move away from 'the ability of government to use finances as a way of managing local government', he says.
Other proposed financial changes include giving local government the power to decide when to reset the 'top-ups and tariffs' funding system that will be introduced with localised business rates from April 2013. As it stands, this decision will be made by the Department for Communities and Local Government not the sector itself.
The consultation on the Code will test the backing for this range of new powers. By June, Allen is confident that the government will then be willing to examine an agreed set of principles.
There are 'people in the government who are encouraging this thinking', he tells
PF
.
'It's really a matter for us to come up with something workable. The localists are very strong. There's a broad base of people in government who know that we need to take the next step and hopefully we'll be able to set that out for them.'

This article was first published in the March issue of
Public Finance
magazine