By Vivienne Russell | 21 February 2012
Businesses and charities are being invited to bid for contracts to help get 16 and 17 year-olds back into education, employment or training.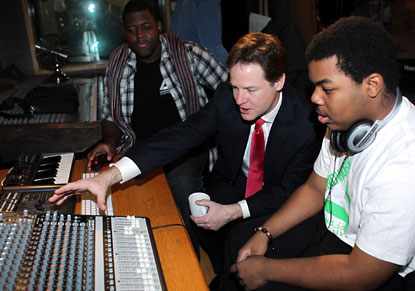 Deputy Prime Minister Nick Clegg today announced a £126m funding package which will, for the first time, offer individual, tailored support to 16 and 17 year-olds who are not in education, employment or training, known as 'Neets'.
Clegg said the number of Neets was a 'ticking time bomb' for the economy and society.
'This problem isn't new, but in the current economic climate we urgently need to step up efforts to ensure some of our most troubled teenagers have the skills, confidence and opportunities to succeed,' he said.
The move forms part of the £1bn Youth Contract, launched last November, which aims to lift young people out of unemployment. Figures published last week revealed that the youth unemployment rate is now 20.7%.
Charities and businesses with expertise in supporting troubled youngsters are being invited to bid for contracts. Payment, worth up to £2,200 for each individual helped, will depend on results achieved.
Support will initially be focused on 55,000 youngsters who have no GCSEs at grade C or above and who are at greatest risk of disengagement from society.
Under the government's City Deal programme, which gives more autonomy to cities, three areas – Liverpool, Leeds/Bradford-Wakefield, and Newcastle-Gateshead – will be able to allocate their own funds.
The government said local authorities were central to the success of the programme, as they could work with providers in identifying youngsters in their areas who will benefit most from the support offered.
Tim Loughton, children and young people's minister, said providers know best how to support teenagers back into education or employment.
'We are looking forward to receiving some innovative ideas that really work from experienced organisations in all sectors,' he said.
The Young People's Learning Agency will be responsible for awarding contracts for the programme in England. The deadline for the first stage is March 5 and contracts will be awarded in June.
The Association of Employment and Learning Providers welcomed the announcement. Chief executive Graham Hoyle said: 'This is what the AELP has been pressing for over many months since it became apparent that youth unemployment was on the increase.'
He added that  government-funded schemes for 16 to 18 year-olds had been too tightly linked to securing a qualification rather than a job. This was especially important in the current climate and he was pleased that today's announcement had addressed this.
The AELP represents 600 private and voluntary sector organisations providing training, job placements and apprenticeships to young people.