By Richard Johnstone | 13 January 2012
Almost three-quarters of GPs want the NHS reforms halted, according to a survey by the Royal College of General Practitioners.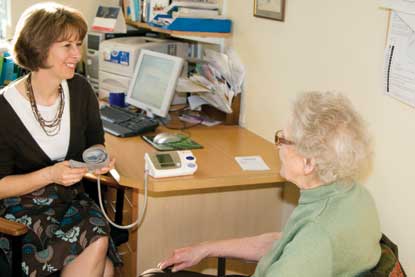 GPs will form part of the clinical groups that will take over the commissioning of health care from abolished primary care trusts. But 73.6% of the 2,600 responding to the online survey agreed that it was '
appropriate' to seek the withdrawal
of the Health and Social Care Bill.
Almost 90% agreed that the reforms would increase the involvement of the private sector in the NHS, while less than 14% believed they would result in better patient care. Three quarters said that the reforms would not reduce NHS bureaucracy.
However, the government disputed the poll's accuracy, as doctors could vote more than once.
Following the survey, the college has written to Health Secretary Andrew Lansley reiterating its concerns. It wants clarification that commissioners would not be required to open services up to competition unless it could be demonstrated that this would be in patients' best interests. Further safeguards should also be introduced on the provision of education and training, the GPs say.
The college's chair, Dr Clare Gerada, said the results were 'very revealing'.
She added: 'The RCGP is the largest body of GPs in the UK, and with over 44,000 members is also the largest medical royal college. We are not a political organisation, but these results speak volumes about how our members – across the UK – feel about these reforms, and the effect they will have on the NHS, and the care we provide to our patients.
'The Report Stage of the Bill is expected to be held in the House of Lords at the end of January, so it is timely for us to reiterate our concerns and show the government that we want to continue working with them to bring about positive change for the benefit of our patients.'
She said that there was 'strong support within the profession not only for us to call for more change urgently but also, should the situation warrant it, for the withdrawal of the Bill itself'.
But the Department of Health said the survey was 'flawed and unrepresentative' because it allowed GPs to vote as often as they wanted and included views from all over the UK, when the changes apply only to England.
A spokesman added: 'We believe that there is strong support for our reforms from large sections of GPs across the country. A recent open letter, from the NHS Alliance and theNational Association of Primary Care, which represents 6,000 practices covering 75% of patients in England, reinforced support for the Health and Social Care Bill.'
Labour said that the 'overwhelming professional opposition' highlighted by the survey was 'devastating' to the plans.
Shadow health secretary Andy Burnham said: 'It is time for the government to put this Bill out of its misery and accept our offer to develop GP-led commissioning through existing structures.'