By Vivienne Russell | 23 January 2012
The gap between economically prosperous and poorer cities has grown, according to a think-tank.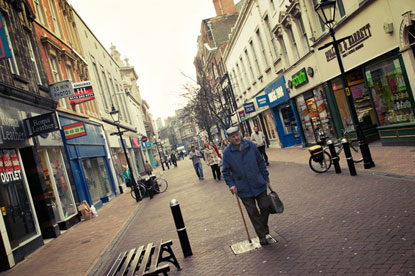 The Centre for Cities today issued Cities outlook2012, its annual index of economic data across the UK's cities.
Five cities are identified as strong performers and well placed to drive the national economic recovery. These are: Edinburgh, Cambridge, Aberdeen, London and Milton Keynes. They all have large pools of highly skilled workers and a high number of business start-ups.
By contrast, five cities – Hull, Doncaster, Newport, Swansea and Sunderland – are singled out as facing a particularly difficult year. Centre for Cities warns that these weaker cities will find it harder to offset the double threat of a weak national economy and a shrinking public sector.
Unemployment in these areas is also increasing faster than in the richer areas. For example, the gap in the benefit claimant count between Hull and Cambridge increased from 3.2 percentage points in February 2008 to 6.1 percentage points by November 2011.
The report also reveals that there are six times more claimants in the most troubled neighbourhood in Rochdale than in the most troubled neighbourhoods in Cambridge.
Chief executive Alexandra Jones said: 'Some cities have been hit particularly hard by recession and the gap between cities is widening. This makes it vital that government policy is tailored to meet the needs of each city rather than one-size-fits-all. What is right for Brighton and Reading will not be right for Dundee and Middlesbrough.'
Peter Box, chair of the Local Government Association's economy and transport board, agreed that government policy needed to be tailored to individual cities' needs.
'It is vital that local council and business leaders, who understand their cities best, are given the tools they need to deliver growth, create jobs and start businesses,' he said.
'Councils have already started the process towards re-energising cities and communities and must now be allowed to go further. Changes to the planning system can help, but the LGA is now calling on the government to localise the running of apprenticeship schemes and the ability to improve transport infrastructure to increase growth further.'