By Richard Johnstone | 25 January 2012
The UK economy shrank by 0.2% in the last three months of 2011 according to figures released today, fuelling fears of another recession.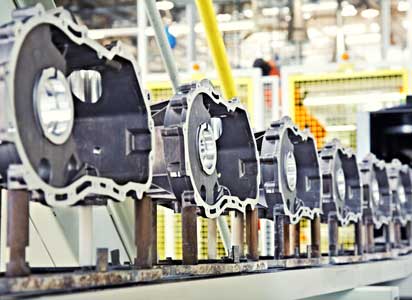 The estimate by the Office for National Statistics is greater than the 0.1% fall predicted by many economic forecasters. It follows a
0.6% growth
in the July to September quarter, and means that the total for the year was 0.8%, compared with 2.1% in 2010.
The biggest fall in the last quarter was in the production and manufacturing sector, where output fell by 1.2% between October and December.
Chancellor George Osborne said that the 'disappointing figures' were 'not entirely unexpected because of what's happening in the world and the eurozone crisis'.
He added: 'Britain has substantial economic problems, debt built up over the past ten years, and we are dealing with those, but the truth is that dealing with those problems is made more difficult by the situation in the eurozone.'
Scott Corfe, a senior economist at the Centre for Economics and Business Research, said there was likely to be contraction in the current quarter, meaning the UK was now 'probably in a double-dip recession'.
The economic outlook for 2012 will 'remain gloomy', he said.
The Institute for Public Policy Research said: The UK economy will get worse before it gets better.'
Chief economist Tony Dolphinsaid: 'The short-term outlook suggests the UK economy has slipped back into recession and the feared double-dip began in the final quarter of 2011.'
He added: 'The recovery from the 2008/09 recession continues to be slow and uneven. Real gross domestic product has increased by 3.5% since the second quarter of 2009. Over comparable periods after the last two recessions, real GDP increased by 7.1% in the 1980s and by 8.8% in the 1990s.'
The Trades Union Congress said that the figures showed that the government economic strategy was 'going horribly wrong'.
General secretary Brendan Barber said: 'Unless the government starts focusing on jobs and growth, it could preside over a decade of economic stagnation, with GDP per capita not set to return to pre-recession levels until at least 2016.'
David Kern, the chief economist at the British Chambers of Commerce, said that the figures were 'worse than many anticipated', but might be subsequently revised. Growth in the three months to September was corrected up after the initial estimate, he added.
'The UK economy is facing difficult challenges, but there is no need for undue pessimism,' he said. 'The latest forecast published by the IMF showed a downward revision from other estimates. But it also predicts that the UK economy will outperform not just the eurozone as a block, but major economies such as Germany and France.'