By Nick Mann | 6 December 2011
There is a 'real risk' that preparations for the London 2012 Olympic and Paralympic Games will cost more than the £9.3bn of public money set aside for the event, the National Audit Office warned today.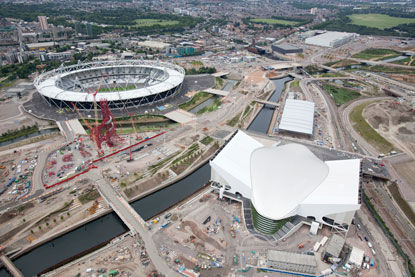 In a report on the progress being made, the auditors said that on current projections almost all the money in the Public Sector Funding Package is likely to be used.
They said there was little scope for any further unforeseen costs that might emerge in the eight months before the games start in July 2012.
NAO head Amyas Morse said that the body responsible for the preparations, the Olympic Delivery Authority, was on course to complete the Olympic Park on time, within budget and to the standard required. But the risk of more money being needed meant 'not everything is rosy'.
He added: 'The government is confident that there is money available to meet known risks but, in my view, the likelihood that the games can still be funded within the existing £9.3bn public sector funding package is so finely balanced that there is a real risk more money will be needed,' he said.
Morse also said there were 'important issues' relating to the cost and staffing of venue security and restrictions on transport in London that still had to be resolved.
In its report, the NAO found that the likely cost of security at the venue had almost doubled in the past year – from £282m to £551m – as the London Organising Committee of the Olympic Games and Paralympic Games more than doubled the estimated number of security guards needed to police the events.
It also highlighted delays associated with the Games' transport programm,e which meant that it was not yet possible for the event's organisers to inform councils, business and individuals of the 'full impact' of the games on transport in London.
Morse added: 'The experience of spectators, visitors and Londoners in general would be diminished and the reputation of the games put at risk if these issues were not sorted out.'
Commenting on the report's findings, Public Accounts Committee chair Margaret Hodge said: 'Around £9,300m of public funding has been set aside for the Olympics, but what is left in the budget for contingency is wafer thin, at only £36m.
'For a project of this size, with unknown risks and eight months remaining, that is a tiny amount of money. Locog is likely to use all of its contingency funding and would also have to call on further government support if there are further cost increases.'
The Department for Culture, Media and Sport, which is overseeing the games, yesterday published its latest quarterly report on Olympics spending which it said showed that the £9.3bn package would be sufficient, with £500m of contingency funding yet to be allocated.
A DCMS spokeswoman told Public Finance: 'We're confident we'll deliver the games within the £9.3bn funding package.'