By Nick Mann | 30 November 2011
The dispute over public sector pension reform will not be resolved until the government offers 'justice and fairness for every public servant', the general  secretary of the Trades Union Congress said today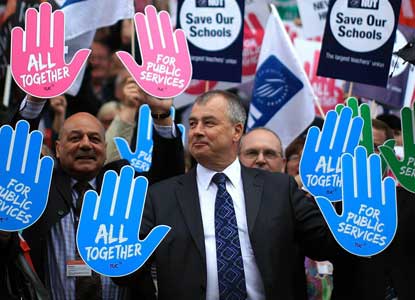 Brendan Barber told a rally in Birmingham that today's industrial action, involving as many as 2 million workers from 30 trade unions, is sending a 'crystal clear message' to government that the unions are 'united' and 'strong' in their demands.
And he linked the proposed pension changes to plans to cap public sector pay increases and increase the state pension age to 67 from 2026, announced in yesterday's Autumn Statement. Barber said that this 'toxic triple' comes as 'those who caused the crisis are getting off scot-free.'
'This is a government that scrapped the tax on bankers' bonuses,' he said. 'Instead they are asking millions of public sector servants to pay higher contributions that won't go into their pensions, but will go into paying off the deficit.
'They have scrapped the bankers' bonus tax and replaced it with a teachers', nurses' and lollipop ladies' tax.'
Barber also said he would 'nail the lies' about public sector pensions and dispute claims that they are 'gold-plated'. Half of public service pensions paid today are less than £5,600 a year, he said.
'There is no justification either for the higher contributions demanded by the chancellor. If you need to raise extra money what about tackling the £10bn given out each year in pensions tax relief for the richest 1% of the population?'
Barber said that, while the TUC wants to settle the dispute over pensions through negotiation, the government has to be prepared to negotiate 'genuinely and fairly'.
He added: 'Now ministers say that they too want to resolve this without further industrial action – and further meetings are planned for the coming weeks. I hope they approach those talks in a genuine spirit of negotiation – because that's the only way this is going to be resolved.
 'Today you're showing heart and courage and determination to win justice and fairness, so let that message ring out loud and clear – nothing else will do.'
On Monday, Unison general secretary Dave Prentis said there could be further industrial action in the New Year if negotiations over the plans for pension reform are unsuccessful.