By Nick Mann | 29 November 2011
Public sector pay rises will be capped at 1% after the current pay freeze ends as the government does 'whatever it takes' to protect Britain from the European debt crisis, Chancellor George Osborne said today.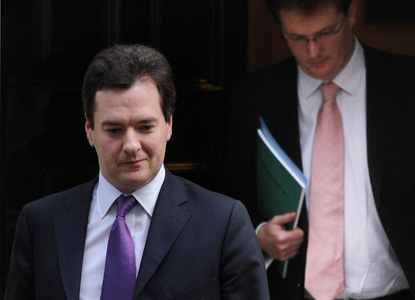 In his Autumn Statement, the chancellor revealed that, while the independent Office for Budget Responsibility did not expect the UK to enter recession, it now forecast growth of just 0.9% this year and 0.7% next year. In March, the OBR had forecast 2.5% growth for 2012.
He also said that, while government borrowing and debt was falling, it was not doing so 'as quickly as we wished'. He cited the eurozone crisis, rising energy and commodity prices and the 'external inflation shock' as the reasons for these weaker forecasts.
According to the OBR, the government is expected to borrow £127bn this year – £5bn more than it forecast in March's Budget. The chancellor said this figure would be reduced to £24bn by 2016/16. 
The debt to gross domestic product ratio will peak at 78% in 2014/15, Osborne said – 7.5% higher than the OBR forecast in March – and then begin falling. The structural deficit is forecast to fall from 4.6% of GDP this year to a 0.5% surplus in five years' time.
This, Osborne said, meant the government was set to meet its 'budget rules', which require debt as a proportion of national income to be falling by 2015/16 and the structural deficit to be eliminated over a rolling five-year period.
However, he warned that if the rest of Europe fell into recession, it 'may prove hard' to avoid one in the UK and said the government was undertaking 'extensive contingency planning' to deal with this eventuality.
To 'live within its means', Britain needed 'further restraint' on public sector pay to help pay for capital investments and support to help young people find work, the chancellor said.
'For some workforces, the two-year pay freeze will be coming to an end next spring, for most during 2013,' he said. 'In the current circumstances, the country cannot afford the 2% rise assumed by some government departments thereafter.
'So instead, we will set public sector pay awards at an average of 1% for each of the two years after the pay freeze ends.'
Osborne said public sector pay had risen at twice the rate of private sector pay over the past four years.
'So while I accept that a 1% average rise is tough; it is also fair to those who work to pay the taxes that will fund it,' he added.
Osborne also said he would be asking the independent pay review bodies to report back by next July about how public sector pay could be made 'more responsive' to local labour markets.
The pay cap was criticised by unions, with the National Union of Teachers describing it as an 'added insult' to public sector workers, coming after the pay freeze.
General secretary Christine Blower said: 'Cutting pay and standards of living further, at a time when the government is asking them to pay 50% more for their pensions, will have a devastating impact.'
Brian Lightman, general secretary of the Association of School and College Leaders, warned that the announcement was 'badly timed' and would 'harden attitudes' among public sector workers to the negotiations on public sector pension reform.
The OBR also forecast an increase in unemployment from 8.1% this year to 8.7% in 2012,t falling to 6.2% by 2016.

And it upped its forecast for the number of public sector jobs that will be lost by 2017 from 400,000 to 710,000.