By Nick Mann | 25 November 2011
Labour leader Ed Miliband has branded the government's economic strategy a 'failure' and called on Chancellor George Osborne to use next week's Autumn Statement to 'change course' to deliver growth and jobs.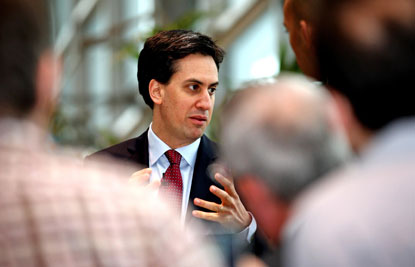 Speaking yesterday in London, Miliband said the government's policies had locked Britain into a 'vicious cycle on the deficit' by failing to create jobs, help businesses grow or keep inflation in check.
'Failures on growth, unemployment and inflation have had real effects on the deficit,' he said. 'The government's own forecasts told us the cost of that failure back in March: £46bn additional borrowing in the coming years. More recent forecasts have put the figure at over £100bn.'
He added: 'When a further rise in planned borrowing is confirmed by the Office for Budget Responsibility next week, it will be a catastrophic blow to the government's credibility.'
Describing next Tuesday's Autumn Statement as 'the moment when we learn that the biggest economic gamble in a generation has failed', Miliband called for a 'change in approach'.
In particular, he questioned the pace of deficit reduction. 'To those who say that one more pound of additional borrowing would leave Britain in economic peril [and] that any change in approach will result in the cost of UK borrowing immediately rising to unsustainable levels – the evidence doesn't support this view. Of course, what we see happening in parts of the eurozone is a deep concern. But we should be extremely wary of those who peddle simplistic parallels between ourselves and Greece or Italy.'
Miliband said that market concerns about European countries' economies were about 'much more' than their speed of deficit reduction, and as such could not be used to justify there being no debate over how fast the deficit was being cut in the UK.
He noted that the International Monetary Fund had acknowledged the UK had 'room for manoeuvre' when it came to the pace of cuts and said it was 'possible' to combine tough deficit reduction with a plan for growth.
If the government did not 'change course' on Tuesday, he explained, they would be 'dragged to higher borrowing by the costs of their failure on unemployment and growth'.
Miliband pointed to Labour's five-point plan for growth as an alternative, and in particular its support for a VAT cut, a bank bonus tax and moving forward 'essential' capital investment.
'To those who say it is too expensive, the answer is the cost of not acting is the more expensive choice, economically and socially,' he said. 'That is proved by the government missing its borrowing targets by billions of pounds.'
He acknowledged that the previous Labour government had 'got some things wrong' on the economy, citing bankers' bonuses.