By Nick Mann | 30 November 2011
Cabinet Office minister Francis Maude has branded today's public sector strike 'inappropriate, untimely and irresponsible' as thousands of schools closed nationwide and hospitals prioritised urgent care.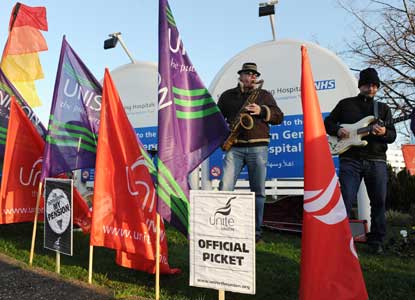 Figures issued by the Department for Education this afternoon showed 62% of England's 21,500 state schools closed for the day, with 14% partially closed and only 16% reported open. The status of the remaining 8% is not yet known.
The Department of Health is expected to issue a full picture on the strike's impact on the NHS this afternoon, but the NHS Employers organisation this morning said that those needing non-urgent care could experience 'frustrating' delays.
A spokeswoman for the British Airports Authority said that immigration queues at the UK's largest airport, Heathrow, were currently at 'normal levels' as a result of the contingency plans it had put in place with airlines and the UK Border Agency.
'However, there still remains a possibility of delays for arriving passengers later in the day,' she added.
The Local Government Association said services such as refuse collection, street cleaning, and libraries were expected to be hit worst by the action.
But chair Sir Merrick Cockell said local authorities were doing everything they could to minimise disruption. 'We will work hard to make sure the elderly are cared for and vulnerable children are protected,' he said.
The Cabinet Office said early indications were that 'significantly less than a third' of civil servants were striking and that there were currently no reports of excessive queues at any ports.
Probation trusts were prioritising 'essential work', it added, while disruption to routines at public sector prisons was 'minimal'.
As the industrial action got under way, Maude said responsibility for any disruption lay 'squarely' with union leaders.
Claiming that the pensions offer made by the government earlier this month was 'among the very best available', he said: 'While discussions are continuing I would urge public sector workers to look at the offer for themselves rather than listening to the rhetoric of their union leaders. 
'These are the sort of pensions that few in the private sector can enjoy.'
Speaking on the BBC's Today programme, Unison general secretary Dave Prentis said it was 'just not true' that negotiations over public sector pension reform were continuing. He said: 'The last time we saw Cabinet Office ministers and Treasury ministers was November 2. They have not asked to see us since then.'
Prentis acknowledged there had been talks involving individual pension schemes, but added: 'The people we're dealing with can't move because of the restrictions imposed on them by the Treasury.'
Maude, however, said: 'There were formal discussions with the civil service unions only yesterday and there will be formal discussions with the teaching unions tomorrow and health on Friday. 
'In addition, there are frequent informal contacts between the government and the TUC.  All of this underlines how indefensible today's strike is while these talks at scheme level are moving forward. '