By Nick Mann | 25 November 2011
Deputy Prime Minister Nick Clegg has announced plans for a £1bn Youth Contract to tackle record unemployment among young people.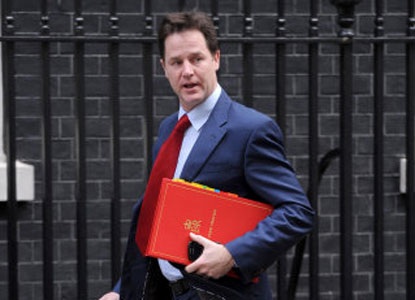 The money will be used over the next three years to fund a mixture of 160,000 wage subsidies, 250,000 work experience placements and at least 20,000 apprenticeships for 18–24 year olds.
The scheme will include a programme to encourage the 'most disengaged' 16 and 17 year- olds to either go back to school or college, start an apprenticeship or get training for a job.
Describing youth unemployment as an 'economic waste' and a 'slow burn social disaster', Clegg said: 'The aim of the Youth Contract is to get every unemployed young person earning or learning again before long-term damage is done.
'This is a £1bn package and what's different about it is gets young people into proper, lasting jobs in the private sector.
'But it's a contract, a two-way street: if you sign up for the job, they'll be no signing on for the dole. You have to stick with it.'
Last week, it emerged that youth unemployment topped 1 million for the first time since records began in the three months to the end of September.
Clegg did not, however, reveal exactly how the programme would be funded. He told the BBC this morning that more detail will emerge in Chancellor George Osborne's Autumn Statement next week.
'The chancellor will make it clear then that we make some spending commitments and some saving commitments and they will balance out,' he said.
But, responding to claims that it will be funded by either cutting or freezing Working Tax Credit, he said the fund 'isn't paid for by one particular tax change' and the cost would be 'spread as evenly as possible'.
He added: 'We've also asked those with the broadest shoulders – I've mentioned the bank levy, I've mentioned the tax avoidance, I've mentioned increasing capital gains tax and so on, and we will be doing more of that.'
Responding to the deputy prime minister's announcement, shadow work and pensions secretary Liam Byrne criticised the time it had taken the government to launch a scheme to tackle youth unemployment. The coalition scrapped the previous government's Future Jobs Fund just days after it came to power.
He said: 'If the government is slashing working families' tax credits to pay the bill for this new scheme, it beggars belief. That tells you everything you need to know about how out of touch the government is with the needs of our young people and "squeezed middle" families across Britain.'
Byrne said Labour's tax on bankers' bonuses would create 100,000 new jobs.
Unite assistant general secretary Tony Burke said the initiative would do 'little more' than 'massage' the record youth unemployment figures and would create a system where young people go into low-paid jobs with no guaranteed future.
He said the Youth Contract was 'nothing more than a re-heating of the Youth Training Scheme and Youth Opportunities Programme and is a hark back to the 1980s where similar Thatcherite ideas failed,' he said.
'This will not tackle the youth unemployment dilemma; it is simply cosmetic arrangement, sticking plaster on an open wound.'Instead, he called for a 'proper system' where companies take on apprentices to meet future skills shortages.