By Richard Johnstone | 18 August 2011
Councils in England fear that the government schemes to cover the cost of the damage caused by the riots might leave them out of pocket, leading to uncertainty over what support they can offer those affected.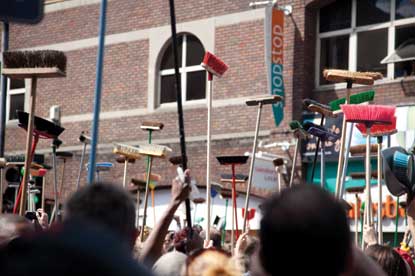 John O'Brien, chief executive of the umbrella group London Councils, told Public Finance that there were doubts over whether the help councils offer residents and businesses will be reimbursed by Whitehall. The London Councils boss said that more than a week after the riots, there was still a lack of clarity on how the government's two support schemes will work.
The government has announced two specific schemes for councils to meet local authorities' costs of the clean-up and recovery after the rioting, which affected the West Midlands, Greater Manchester, Merseyside and Nottingham as well as most of the capital's boroughs.
These are a £10m recovery fund to help councils with the immediate costs of making their areas safe, clear and clean, and a £20m scheme for the high streets affected to help rebuild businesses.
Communities Secretary Eric Pickles said the government was 'giving a helping hand to our high streets'.
He added: 'We're ensuring councils have the backing and financial support they need to get local firms and local communities in their area back on their feet. There is immediate funding now available, including relief from paying council tax and business rates for those badly affected.'
Among the costs incurred by councils are the direct repair and clean-up expenses and the subsequent support to companies and families, including the cost of rehousing people where necessary and providing support to businesses that have to close temporarily.
O'Brien told
PF
that 28 of the 32 London boroughs had been affected in some way but said it was too early to estimate the cost of the damage. The Association of British Insurers has said its members across England expect to pay out in excess of £200m in total claims.
Councils have until November 7 to claim from the two DCLG schemes. Local authorities will be able to claim from the High Street Support Scheme the cost of grants to local businesses to alleviate the impact of the disorder, including the cost of providing business rate relief to affected companies.
Further government help will be made available through the Bellwin scheme, which provides emergency financial assistance. However, there is a threshold a local authority has to spend before it can claim.
O'Brien said that it would be 'heroic' to say councils wouldn't be left out of pocket. 'We are making sure they are targeted effectively, and get the maximum benefit from them [government schemes]. I'm not going to say that they will cover everything.'
Other authorities have said that they also intended to bid for funds. Sir Richard Leese, the leader of Manchester City Council, agreed that the government funds were welcome. However, he added: 'We will continue to monitor the situation and press the case for extra resources where we believe they are necessary.'
Wolverhampton City Council confirmed to
PF
that it would bid for funds from the high-street fund.
Funding for the central government support comes from three sources. The Treasury has released £10m from the government's reserves, of which £4m will go towards the recovery fund and £6m to high-street support. The rest is split between the DCLG, contributing £13m, and the Department for Business, Innovation and Skills, providing £7m.
A DCLG spokesman said that funding had been found from within existing departmental budgets and was not being diverted from any existing programmes.
Other costs to the public sector are likely to come from the payments under the Riot Damages Act 1886. This allows for business owners and householders hit by damage caused to their property to apply for compensation from the police. Claimants are likely to include insurance companies recouping the costs of payouts.
Prime Minister David Cameron has given assurances that 'the Home Office will stand behind' claims that have to be paid by police authorities. A Home Office spokesman told PF that discussions are ongoing between the Home Office and Treasury as to how this will be funded.
He said: 'There is already an established system of special grants in place to support police forces where they face unexpected or exceptional costs. It is up to individual forces if they wish to apply for a special grant and all applications will be considered.'
The Association of Police Authorities is expecting insurers to attempt to recoup their costs from authorities.
Asked if this meant the government would be faced with a £200m bill, an APA spokesman said that each claim would be assessed on its merits.
He added: 'The major cost is the Metropolitan Police areas. They will have the highest sums. We are reassured by what the prime minister has said [on meeting costs] but we have yet to see the exact details, to cross 't's and dot 'i's.'
The APA has renewed its call for the repeal of the Riot Damages Act, saying it is out of date. Deputy chair Ann Barnes said it was a 'nonsense' that authorities were liable for the costs of criminal damage at a time of unprecedented cuts to police budgets.