By Lucy Phillips | 11 August 2011
The prime minister has pledged £10m to help councils with the recovery operation after this week's riots.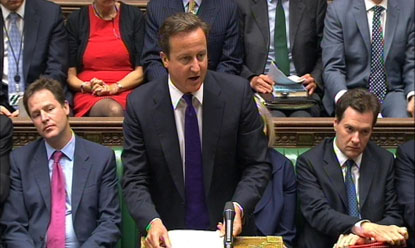 In a statement to the Commons this morning, David Cameron said the money would be made available to local authorities to help make areas clear, clean and safe again.
He also announced a £20m high street support scheme to help businesses get up and running again.   
Parliament was recalled from summer recess to debate the riots, which spread from London to Birmingham, Manchester and other towns and cities across the country.  
Cameron said the violence of the past few days had been 'completely unacceptable'. He claimed the looting 'was not about politics or protest – it was about theft' and said those convicted of crimes related to the riots should expect to go to jail.  
'We will do whatever it takes to restore law and order and rebuild our communities,' the prime minister added.
Opposition leader Ed Miliband said Labour was united with the coalition in its stance against the violence and disorder. But he called on the government to reconsider the budget cuts to the police.
In reply, Cameron said a 6% reduction to the policing precept was 'totally achievable without a reduction in visible policing'.
He added: 'At the end of this process of making sure our police budgets are affordable, we will still be able to surge as many police on the streets as we have in recent days.' 
The prime minister also confirmed that Treasury reserves were being used to cover operational costs.
Communities Secretary Eric Pickles later gave further details of the £10m recovery fund for councils. He said it could be used for immediate clean-up costs, such as clearing debris left on the streets and repairs to pavements and roads, as well as funding council tax discounts or relief for homes that have been damaged but are still habitable.
The £20m high street support scheme, funded jointly by the departments for Communities & Local Government, and Business, Innovation & Skills, could be used to finance measures that would get businesses trading again and meet short‑term costs. Councils will distribute the money and could use it to reduce business rates, pay for building repairs and encourage customers back to affected areas.
Pickles' department will also fund immediate costs of providing emergency accommodation for families who have been made homeless by the disturbances. This should be raised under the established homelessness funding processes.
Pickles said: 'Our priority is to get local communities back on their feet, get businesses up and running again and make sure nobody is left without a roof over their head.
'We are making immediate financial support available to those that need help and we will continue to work closely with councils who have already responded to this violence with calm, resolve and professionalism.
In a written statement to Parliament, Pickles also announced that councils would have the government's full backing in holding any rioters living in social housing to account. He pledged to look urgently into giving extra powers to councils to evict tenants involved in the unrest.     
Housing minister Grant Shapps said: 'The people who rioted and looted over the past few days need to know that there are consequences to their actions. So they should wake up and listen to this clear message: if you live in a social home and you are caught rioting, your one night of madness could have disastrous consequences for the rest of your lives.
'Social housing is a precious resource, and the hard‑working taxpayers who subsidise it will be rightly wondering why anyone involved in trashing and looting our country should expect to enjoy the benefits of a social home.  
'Councils and housing associations already have powers to evict social tenants if they are involved in antisocial behaviour or criminal activity. I urge them to consider using those powers. I am proposing to strengthen the powers so that tenants can be evicted for serious antisocial behaviour or criminal activity beyond their local neighbourhood.'
Sir Merrick Cockell, chair of the Local Government Association, said: 'The announcement of extra emergency funds will help local authorities and businesses speed up the process of rebuilding shattered neighbourhoods and will assist in rehousing those who have had their homes and possessions destroyed by mindless criminals.
'For neighbourhoods to recover it is vitally important that local businesses affected by the riots are nurtured and encouraged to reopen. Business rate relief will help. It is also important that those businesses and residents whose insurance does not cover these mindless acts of criminality are able to access compensation in a timely manner. The process of applying directly for riot compensation needs to be simple and fair, and the payouts swift.
 Cockell said the intention to clarify extra deterrents, such as taking social housing tenancies away from those involved in the riots, was 'helpful'.