By Richard Johnstone | 22 June 2011
The government will press ahead with its public sector pension reforms even if its fails to reach agreement with the Trades Union Congress, Cabinet Office minister Francis Maude has told Public Finance.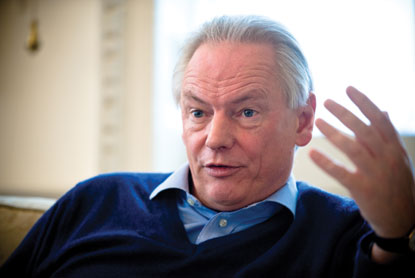 Treasury and Cabinet Office ministers are currently in negotiations with the TUC over how to implement the changes proposed by the Hutton Commission on the future of public service pensions. Ahead of the next talks on June 28, Maude, one of the lead negotiators, has told PF that negotiations with individual unions will need to go ahead 'whatever happens'.
He said that the government embarked on 'overarching discussions' on the proposals at the request of the TUC, which had 'made progress'.
'We agreed with them that it would be useful to have these overarching discussions with a view to agreeing a set of principles, and that we're doing.'
Maude added that 'the aim has always been, on both sides, to agree some overarching principles first' before moving into individual negotiations on different schemes, including the local government and teacher pension schemes.
However, the government plans to begin a gradual employee contribution increase from next April. Maude said: 'At some stage we will need to move into discussions about the changes in each scheme, all the schemes are different as they have different characteristics. At some stage we'll need to move into that position, frankly, whatever happens.'
He added: 'I wouldn't say I'm confident [about getting a TUC agreement]. I'm hopeful, there's a lot left to discuss.'
Maude confirmed that a further meeting would take place in July. 'We don't have a deadline, but I think everyone wants to get this done as soon as they can because everybody wants to know what they're going to be paying and what they're going to be getting,' he added.
He said that there is 'a very strong case supported across the political divide' to implement the proposed changes, which have led to planned strike action on June 30 by education unions and the civil service Public and Commercial Services union.
The pension changes were recommended by the independent Public Service Pensions Commission, chaired by former Labour work and pensions secretary Lord John Hutton. They include a rise in contributions, an increase in the retirement age by linking it with the state retirement age, and a move from final salary pensions to ones based on career average earnings.
Maude called the reforms 'relatively mild'. He added: 'They [public sector pensions] need to be sustainable. Because people are living longer, it's right that there should be a better balance between life in work and life in retirement, and the increase in contributions is there to have a better balance between what public sector staff pay and what other sectors pay.'
He told PF that there was a 'huge concession that's already been made' that the pensions will remain defined benefit schemes.
'These types of pensions have all but disappeared from the private sector, very few people outside the public sector can expect to enjoy pensions of that sort. Most people's pensions outside the public sector will be dependent on the performance of investment funds. This is a much less reliable form of pension.'
Chief Secretary to the Treasury Danny Alexander said in a speech on Friday that 'our offer is by far the best that is likely to be on the table for years to come'. Maude added that the longer pension reform was left, 'the more radical the changes need to be'.