By
Vivienne Russell
| 30 June 2011
Thousands of teachers, lecturers, jobcentre workers and other civil servants are taking strike action today over the government's proposed changes to their pensions.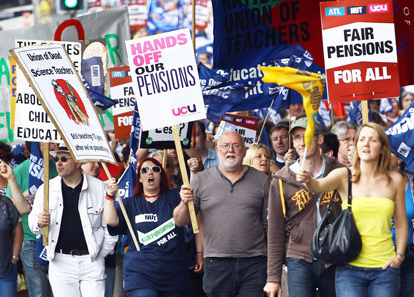 Early feedback from the unions involved suggests that the majority of eligible members are taking action, causing severe disruption to public services and schools.
The Public and Commercial Services union said the strike was the 'best supported' it had ever staged. Ninety per cent of members working for the Department for Work and Pensions are out on strike, with many jobcentres severely disrupted, the PCS claimed. Around 85% of Revenue & Customs staff are thought to have stayed away from work, and courts and border agency services are also disrupted.
PCS general secretary Mark Serwotka said: 'The government made a lot of the fact that after the strike ballot it was clear civil servants didn't support strike action. But today we can see that they have voted with their feet and sent a clear message to the government that they will not tolerate these attacks on their hard-earned pensions rights.'
Schools across England and Wales have been widely disrupted, with 45% closed and 45% partially closed.
The National Union of Teachers said the majority of the union's 218,000 eligible members were taking action today. NUT general secretary Christine Blower said: 'Today's action across the country demonstrates the anger and distress that this government is causing teachers. Their unjustified attacks on teachers' pensions are nothing short of disgraceful.'
The Association of Teachers and Lecturers said it was with 'deepest reluctance' that its members in both state and independent schools were taking action. It is the first time the union has been involved in national strike action in its 127-year history.
General secretary Mary Bousted criticised the government's failure to negotiate. 'The ball has been in the government's court throughout. If it really didn't want a dispute it had only to negotiate with us. But it seems the government thought it could steamroller changes through without any significant opposition. Today our members are using the only method left open to them to tell the government loudly and clearly that they can't do this to us.'
The Universities and College Union also reported strong support for the strike. General secretary Sally Hunt said: 'The average pension of a female college lecturer is just £6,000. This is a government that has already presided over an increase in the income of the richest 1,000 people by 18%. How dare they call us gold-plated? How dare they preach to us about fairness?'
Trades Union Congress general secretary Brendan Barber has lent his support to the strikes. He told a rally in Exeter this morning that the 'burden of deficit reduction is being piled unfairly on to millions of low and medium paid public sector workers who did nothing to cause the crash'.
Cabinet Office minister Francis Maude, one of the government's lead negotiators on pension reform, condemned the strikes as 'unnecessary and premature'.
He added: 'The majority of civil servants and teachers themselves did not vote for this action, showing how extremely limited support is for this strike.'
Maude added that the public could be assured that 'rigorous contingency plans were in place to ensure essential services are maintained during the action'.