by Lucy Phillips | 30 June 2011
Local Government Secretary Eric Pickles has defended his decision to abolish the Audit Commission to
Public Finance
and pledged that fees will not rise under the new auditing regime.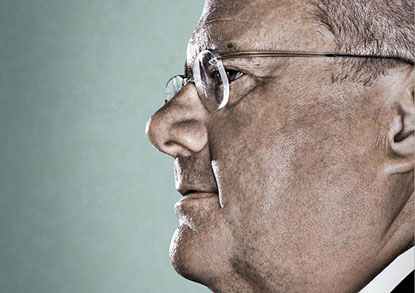 In an
exclusive and wide-ranging interview with PF
, Pickles also promised that no council would receive less funding than it currently does in the forthcoming shake-up of local government finance.  
The secretary of state said it was 'ludicrous' to have the fourth largest audit firm in Britain in public ownership. He wanted local authorities 'to be able to pick and choose their auditors in the way that Boots the chemist can'.
Pickles said the government would bring medium-sized firms into the market in an attempt to find a cheaper way for local authorities to be audited. He also guaranteed that fees would not go up.
CIPFA and other bodies have raised concerns that a free-market model could lead to a consolidation in the number of audit providers because of the specific expertise needed, hiking up fees. The current benefits of pooling auditors' costs would also be lost, leaving councils in remote geographical locations struggling to secure services at a reasonable price.
In a change from his usual stance, Pickles had warm words to say about the Audit Commission's audit practice, although he described the watchdog as a whole as 'by and large pointless'.
He added: 'I just think they became the tool of New Labour and I didn't want them to become my tool. I wanted something independent. But there's nothing wrong with the auditing function, they do it very well.'
Pickles also commented on the widely disputed £50m of annual savings he promised to make from the abolition of the commission, when it was announced last August. He said the savings would be shown in an impact assessment, to be published alongside a draft Bill shortly.  He could not account fully for the controversial sum, saying: '[The figure] came from my officials who I rely on completely on these matters.' But he stressed: 'I haven't seen any evidence to suggest it won't save that.'
The communities secretary described a letter sent to his department by Audit Commission chief executive Eugene Sullivan, which puts the abolition costs at up to £450m, as 'not at all convincing'. 'Which is probably another reason why we are abolishing them,' he added.
Pickles said the government was considering the Audit Commission's proposals for a mutual buyout of the audit practice by its employees but 'we have to bear in mind that we have a responsibility to the taxpayer of doing the right thing'. A straightforward sale to the private sector, as a whole or in parts, would be the other option.
Unions are warning against this route. Richard Hardy, Prospect negotiator for Audit Commission staff, said: 'A joint venture or mutual would be a better option for us than straightforward outsourcing. I would much rather deal with a mutual than five or six private companies, all with small numbers of Audit Commission staff.'
The commission itself did not wish to respond to Pickles' comments. But it has told
PF
that audit staff are poised to 'submit a bid for the work on offer, probably as a joint venture with majority employee ownership', if ministers confirm the outsourcing route. The government has also said this is its 'initial view' and asked the watchdog to begin work for outsourcing audits from 2012/13 to keep all options viable. 
PF
understands that the Audit Commission is looking to raise start-up funds for the mutual buyout from the City. Hardy said that the important thing would be to determine that the borrowing was lowered by the staff themselves over time. 'It's difficult to do a wholly owned mutual at once,' he said.
Hardy added: 'It's not unexpected in respect of government wanting to maximise their return. They want the best possible deal.'
But he said members were anxious for ministers to make a decision after ten months of 'uncertainty'. 'I think people are frustrated about the DCLG making announcements and then going quiet.'