By Richard Johnstone | 31 May 2011
The Bank of England's inflation forecasts have become 'progressively less accurate', leading to questions over the effectiveness of its interest rate setting, a think-tank is claiming.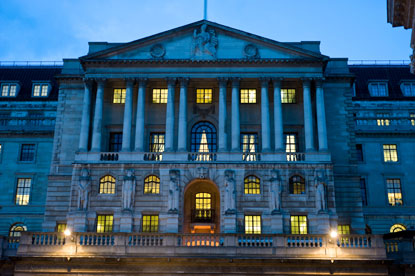 Research published by the Centre for Policy Studies today follows its analysis last week of the Treasury's poor record of predicting economic growth. 
Researcher Ryan Bourne found that between 2001 and 2004, the Bank's forecasts were 'almost spot on', with an average error of 0.1 percentage points.
There was a slight growth of the error between August 2004 and May 2007, with the Bank's average forecast for inflation a year ahead at 1.9%, compared with actual inflation of 2.3%. But this average error of 0.4 percentage points, was still within normal forecasting margins of error, Bourne argued.
However, since August 2007, the error has grown, with the Bank's average forecast of 1.9% per annum comparing with 3.2% in practice. This represents a 'significant error', Bourne said, given that the target was 2%. It was a 'cause for concern' because the current historically low level of the base interest rate at 0.5% is based on the Bank's projections. Currently, the Consumer Prices Index inflation is more than double its 2% target at 4.5%.
'If its inflation targeting is to be plausible, then the [Bank of England] Monetary Policy Committeemust demonstrate a successful track record of forecasting inflation', Bourne said. 'The Bank appears to have become worse at forecasting inflation over time, and has tended to underestimate inflation significantly over the past four years.'
This potentially has implications, he added: 'Ultra-low interest rates are not politically neutral. Of course, they help to maintain business and consumer confidence. But they also punish savers. And they also allow real depreciation of very high levels of debt in the two most indebted sectors of the economy: the banks and the government.'