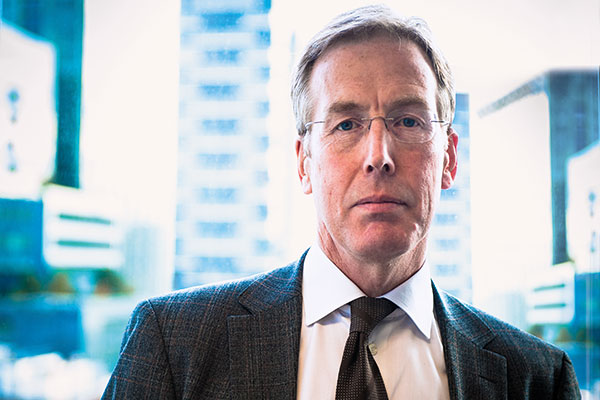 A failing organisation, as every self-styled management guru will tell you, should be seen as an opportunity, not a threat. Which is perhaps why David Behan, on taking the helm at the ill-starred Care Quality Commission, declared that it was his 'perfect job' – and why, 15 months on, he still insists that it's a brilliant place to be.
The CQC, you will recall, was cobbled together back in 2009 through a shotgun merger of the Healthcare Commission, the Commission for Social Care Inspection and the Mental Health Act Commission. At the time, many were highly critical of this Treasury-driven bonfire of the quangos. Whitehall insiders warned of the disastrous loss of specialist knowledge that would result from creating a generic 'super-regulator'.
Sadly, as the names Winterbourne View, Basildon and Thurrock, Morecambe Bay and Mid Staffordshire remind us, many of these fears have been borne out. Inquiries into care scandals at these and other hospitals and trusts – most notably, by Robert Francis QC into Mid Staffs – have pointed the finger at CQC's failure to identify horrific systemic failures. The Health Select Committee has accused it of having 'distorted priorities', and CQC's own chair, David Prior, has called it 'totally dysfunctional' and 'unfit for purpose'.
In a short space of time, two commission chairs – Barbara Young and Jo Williams, plus Behan's predecessor as chief executive, Cynthia Bower – have resigned, the latter amid claims that she had been 'hung out to dry'. Accusations of bullying and intimidation of CQC staff – and of political cover-ups – continue to this day, with a high-profile row between Health Secretary Jeremy Hunt and his Labour shadow, Andy Burnham, over who was to blame for the failures in governance.
Into the breach has stepped Behan, a former social worker and social services director, president of the Association of Adult Social Services, CSCI chief inspector and director general for social care at the Department of Health. The well-regarded 57-year-old has a dry line in lugubrious Lancashire wit and a dogged determination to make the best of a largely thankless job.
On the day we meet, at the commission's London HQ, the airwaves have been full of debate about the 15 minutes of home care that, thanks to council cuts, many older and disabled people are increasingly confined to. The Leonard Cheshire Disability charity had been sticking its head above the parapet to say such contracts make it impossible to provide decent quality domiciliary care.
Behan's response was blunt: 'It was a brave thing to do, a big statement to make. I say good on them. Things will begin to change when people do more of that.' Care minister Norman Lamb has since announced a review into what is an acceptable length of care visit.
This issue – of how to safeguard quality in the face of service cutbacks – is 'absolutely core' to what the CQC does, says Behan. It's also the thread that runs through recent care scandals. At Mid Staffs, he argues, 'people traded quality for financial balance and meeting targets' (set, incidentally, by CQC's fellow regulator, Monitor). The prospect of at least ten more years of austerity, flagged up in the chancellor's party conference speech, preoccupies him a great deal.
So is this an early taste of the 'uncomfortable truths' the health secretary claims he wants to hear from a soon-to-be statutorily independent CQC? Hunt has announced that the commission is to be given Bank of England-style independence to prevent politicians blocking regulators from speaking truth to power. The none-too-subtle message is that on the last government's watch, this was far from the case.
Behan acknowledges that there's a highly political context to all this. But from CQC's point of view, he welcomes the move to arm's-length status.
'We'll make our judgements on what we find. The public wants to know we're independent of government. It means we can make special studies of services and decide our own methodologies, without asking permission of the secretary of state.' All of which could prove rather important in the run-up to the next election, when CQC 'may discover things politicians find difficult or inconvenient,' he says.
But there's another side to independence that Behan seems less keen on. Currently, the commission's 2,000-plus staff are paid via its £100m annual income from registration fees, and the £52m it gets annually from the DoH. In future, says Behan, CQC will be expected to go for full-cost recovery by getting its income from fees – a move much in line with other government efforts to offload responsibility for regulation.
It sounds like a big ask for an organisation still in the beginnings of what Behan calls 'a root and branch reform' of its regulatory model in the wake of the Francis review. 'New start' and 'Fresh start' documents are currently pouring out of its Old Street offices, announcing a range of regulatory initiatives.
Most eye-catching is the appointment of three new CQC chief inspectors. Mike Richards, Steve Field and Andrea Sutcliffe are now responsible for hospitals and mental health, general practice and dentistry, and adult social care, respectively. All three are very high-profile figures – 'fantastic, value-driven individuals', says Behan – whose role is to spearhead teams (still under construction) to oversee the commission's 22,000 registered services.
Sutcliffe's proposals for hidden cameras and 'mystery shoppers' in care homes indicate that CQC is taking Hunt's call for it to become 'chief whistleblower' at face value – an issue that has been heightened by revelations of 'institutional abuse' at Orchid View, a West Sussex care home. New-style hospital inspections have also been launched, initially at four hospitals.The first involved 24 people going in for three days, using a combination of in-house inspectors, specialists from outside and 'experts by experience' (service users).
Behan is big on using professional experts: 'If I'm looking at paediatric cardiac surgery, I want someone from that background – not a generalist. The same goes for inspecting autism services.'
An extra £20m of DoH funding has been made available for this purpose. But buying in these and other improvements CQC wants to make doesn't come cheap.
There's no end date yet for full-cost recovery, but Behan is clearly concerned about the implications: 'Ultimately, there will always be a proportion of our work that can't be set against fees,' he says. 'The question is, how much?'
Ironically, it was the last regulatory cost-cutting exercise that got rid of much of the specialist expertise now being painfully reassembled.
Behan is reluctant to comment 'with hindsight' on all of this zigzagging, other than to say that his dad, a retired electrician, 'gets it' when it comes to why you need specialists. The clear implication is that many politicians didn't, and still don't.
He is more forthcoming about CQC's back-to-the-future, 'Ofsted-style' ratings system, hailed by the health secretary as the next best thing in inspection. These will rate hospitals and care homes as 'poor', 'requires improvement', 'good' or 'outstanding'. In NHS trusts, they will rate specific services and departments.
Paradoxically, ratings were another thing that got dumped during the last regulatory shake-up. 'Many people were critical when they went,' says Behan, who believes that service users – and, eventually, care
providers – found them helpful. 'They did drive improvements in care services. It's good they've come back.'
But just how meaningful will the new system – rebranded as delivering services 'good enough for my mum' – be in today's financial climate? In the same week that Behan talked with PF, Monitor issued a stark warning about the measures the NHS will have to take to make £30bn in efficiency savings. The Local Government Association predicts even more draconian rationing of adult social care.
Behan insists that, despite all these pressures, CQC is not going to lower its sights. 'Will we lower the threshold for what's 'good'? No we won't.' Instead, the CQC will get a lot tougher about enforcing standards; for example, by imposing more spot fines on care homes without registered managers. It's not a case of inventing new sanctions, he says; they've got plenty – it's just that they haven't been used very much in the past.
Why ever not? Here we get to the nub of much that seems to have gone wrong at the commission, and more widely in the sector. So is this dereliction of duty down to the 'cultural' issues about which Francis talks so much?
Behan is understandably hesitant to blame his own staff. He talks generally about 'a lack of confidence' and people 'not having thought deeply enough' about the use of sanctions.
Others are at liberty to be more candid. Social care expert Ray Jones believes that when CQC was founded, many staff felt demoralised and de-skilled by its generic approach. 'They were unable to cope with the demands put on them, and this in turn led to bullying and intimidation.'
This view is confirmed by the commission's own internal review, which found a 'systemic' bullying culture that Behan has described as 'shocking and unacceptable'.
If anyone can take all this on, it's Behan, says Jones. Other care specialists concur, describing Behan as very bright and independent-minded, with the grip necessary to turn things around. But Behan's ability to stand up to ministers and civil servants is not just down to him, emphasises Jones, who is dubious about the autonomy of an arms-length commission.
'CQC is now a bit like a holding company, running three separate businesses,' he says. 'In the run-up to 2015, the chair and board are going to come under huge political pressure.'
Others accuse the health secretary of 'playing to the gallery' by 'rubbishing CQC and the NHS at any opportunity'. One non-executive director of an NHS trust told PF that, on the ground, this has bred huge cynicism, and that CQC still has a mountain to climb to regain trust and respect.
So what on earth attracted Behan to the job in first place?
Believe it or not, he says, it's all about his values. 'I actually don't believe in charismatic heroes riding into town to save the day, but I do believe in building teams and communicating directly with staff to make change happen.' A strong personal belief in social justice, dating back to the voluntary work he did with homeless people as a teenager in Blackburn, is what gets him up in the morning, says Behan.
What gets him to sleep – and as far away from ratings, targets and budgets as possible – is cycling 20-plus miles most weekends, down on the Kent/Sussex border, where he lives with his wife, plus cooking for his family (he has two grown-up sons), and listening to his favourite blues and indie playlists. And 'probably drinking too much red wine on a Friday night'.
With the government's response to Francis's 290 recommendations due this autumn, and full-cost recovery coming down the track, it sounds like he's going to need it.
This feature was first published in the November edition of Public Finance magazine