You're only as good as the people you employ. It's a well-worn cliché, but for local authorities facing recruitment challenges across all levels of the finance spectrum, it's also a source of ongoing stress. A combination of factors means that across local government the problem of sourcing good people – from entry-level finance staff to directors – shows no sign of abating.
Of course, this isn't a malaise limited to the finance function. The Local Government Association's most recent annual Local Government Workforce Survey, published in June last year, found that although average local authority vacancy rates have remained static and there is little or no change in turnover, 78% of respondent councils said they were experiencing recruitment and retention difficulties. One in 10 said they had a recruitment freeze in place at some point during 2017-18.
More granular analysis found that 17 of the 174 local authority respondents had struggled to recruit finance officers other than S151 – a "statistically significant" rise on the previous year. In fact, legal professionals and environmental health officers were the only other occupations where the challenge of finding people to fill roles had increased noticeably compared with 12 months earlier.
Officially at least, austerity is over, but uncertainty prevails and the reality at the coalface tells a far different story. In January, prime minister Boris Johnson launched a six- to nine-month review of departmental spending, driven by the Treasury, to ensure that "every penny" is justified. Meanwhile, research from recruitment software company Oleeo in partnership with the Public Services People Managers Association, published in October, found that just 19% of respondents felt they had an adequate budget to secure the very best talent and fight off competition from rivals and the private sector.
Amplified demographic challenges in local government recruitment are further exacerbating the problem. Retirement creates inevitable churn, regardless of sector. However, in local government, the public sector pensions conundrum is adding another dimension to the problem. Senior professionals maxing out their pensions limit are discouraged from continuing to work because of the pressure on their pension pot.
Any pension contribution over £10,000 per year paid by public sector workers is treated as a taxable benefit by HM Revenue & Customs. Workers who exceed the lifetime allowance – currently £1,055,000 – could face a tax bill of 55% on their excess pension contributions. Enhanced pay confirmed by the government in July last year saw more public sector high earners breach the annual and lifetime pensions allowances.
"This lifetime pension allowance has already been blamed for encouraging many consultants and GPs to retire 'prematurely' to avoid the relatively punitive taxes that they would otherwise face. One, unintended, consequence of the [local government] pay rise might therefore be that more senior public sector employees also look to retire prematurely in the coming months," says Robert Salter, a senior advisor at Blick Rothenberg.
At the same time, there is now more careers choice for senior government leaders. For example, they could pursue an executive career in another industry, build a board portfolio or focus on interim executive roles, says Jes Ladva, partner and head of the local government practice at headhunter Odgers Interim.
The high turnover of senior leaders has reached a point where the typical tenure of a chief executive is almost as bad as a premier league football manager's. For those not familiar with the beautiful game, let's just say that two years is common. This all comes at a time of political uncertainty, notably where constituencies changed hands at the general election and may now have a completely new leadership team taking them in a different direction.
---
The lifetime pension allowance has already been blamed for encouraging many consultants and GPs to retire 'prematurely' to avoid punitive taxes. One, unintended, consequence of the [Spending Round 2019] pay rise might be that more senior public sector employees also look to retire- Robert Salter, Blick Rothenberg
---
In fact, public sector finance faces pressures at either end of the recruitment spectrum. The attractiveness of senior roles is waning, and the talent pipeline of senior finance employees is drying up, perhaps not surprisingly bearing in mind the increased pressure and tight resources they are having to contend with. At the other end of the scale, fewer graduates are pursuing entry-level finance jobs – the norm of having to spend up to four years doing basic audit work, even at a Big Four firm, simply isn't cutting it for the next generation of graduate talent.
The budget cuts of the past decade – 50% in most cases – are forcing local authorities to do more with less. Leadership teams have adapted as a result – they are far more resilient for one thing. However, slashed budgets have resulted in delayered structures that make the leap from one level to the next more difficult, so that fewer senior professionals are coming up through the ranks.
How is local government recruitment evolving as a result? There is often still a sense of 'here's what we've done for previous roles'. However, some local authorities are starting to anticipate the skills they might need to meet operational challenges in six months' time. Admittedly, for many councils, this is still a work in progress, but a trend around smarter and more strategic commissioning of talent is certainly emerging. "The mentality has evolved beyond immediate needs to 'if we source talent early enough, we can help mitigate future issues'," Ladva says.
Recruitment challenges are also forcing local authorities to think more carefully about balancing internal progression and stability with the need to bring in fresh ideas. Regardless of where people are in their careers, says Jo Pitt, CIPFA's local government policy manager, developing staff is always important – "from entry level financial skills, to second-tier staff looking for additional skills such as business partnering and influencing that will make them top-level leaders.
"At CFO level, it's about helping them to keep abreast of current thinking to deliver that high-level leadership challenge." Training is more than attending a course, Pitt adds. "It can be about networking in informal settings, giving staff opportunities to expand their knowledge and involving aspiring leaders in interesting projects."
CIPFA is rising to the challenge with a four-day leadership development programme. Designed to support the development of leadership practices within public sector finance functions, it will help ambitious finance employees develop the ability and confidence to take on more senior roles that require effective leadership and high levels of collaboration and influence.
Succession planning is key, says Sami Haque, manager, public sector, at Hays Accountancy & Finance. "We've seen many occasions where talented professionals have left for better career opportunities with another employer. Authorities need to conduct more regular reviews and address next steps to keep staff engaged. This also allows both parties to address any concerns and look at ways to improve."
Councils are also looking to external providers for the short-term injection of skills and experience. Local government has traditionally been viewed as a 'job for life' sector. However, there is now a thriving gig economy for a range of local authority roles.
"A leaner structure means that smarter authorities are using [the gig economy] to their advantage. They have a strong and able core finance team, supplemented by consultants and interim staff," Ladva says. "They recognise that the skills they need in six months might be different to those needed in the next three years." There's also a growing appreciation of a public and private sector skills mix that combines specific talents with a public service ethos.
Looking to the future, local government is not immune to the impact of automation, machine learning and artificial intelligence on career paths.
Already a greater focus on strategic planning, risk management and newer specialist skills such as data science is starting to shape the recruitment demands of local authority finance teams. This is not only about the potential of data to transform public services – such as targeting resources, building better customer insight and improving risk management – but also about future audit requirements for the ever-growing complexity of today's integrated systems.
"It's important that local authorities can pull through a younger pipeline, and to do that they need to appreciate that today's jobseekers are looking for different things," says Pitt. Countless studies suggest that candidates will often forfeit a private sector salary in lieu of a clear career progression path and opportunities to work on meaningful projects.
Local authorities are having to step up their game when advertising roles. Workers increasingly expect to see flexible working patterns offered as the norm, as future generations of workers seek a better work-life balance, says Chris Russell, policy adviser at the Recruitment & Employment Confederation. "There are challenges with increasing flexibility for some public sector jobs, but achieving this is important if the public sector is going to compete with the private sector."
The Oleeo survey, meanwhile, suggests that paper-based recruitment processes still prevalent across local government are hampering attempts for local authorities to go head to head with private sector employers. Half (51%) of public sector recruiters surveyed rated the way that public sector organisations tackle talent attraction as 'average', while a quarter felt that current approaches were ineffective.
Historically, talent attraction in the public sector has been significantly paper-based, with bureaucratic systems and a lack of meaningful automation. Even with online application forms, this makes the overall experience for new applicants feel inefficient, longwinded and poor, the Oleeo survey concludes.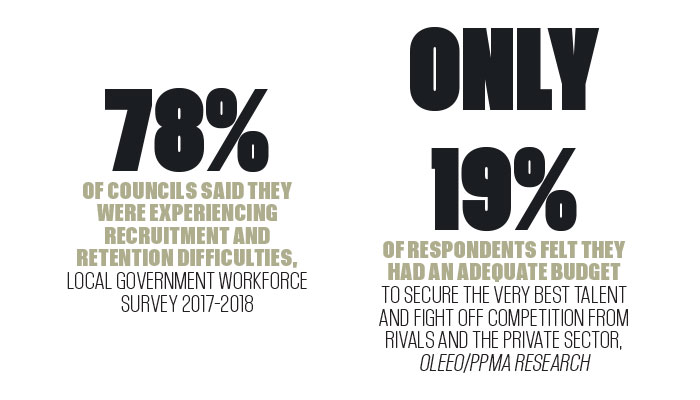 "Technology in the recruitment process isn't used to its full potential by local authorities, and is therefore having an impact on the talent pipeline. Authorities tend to use outdated platforms to advertise vacancies, which causes technical issues for jobseekers when they try to apply," Haque says.
Jonathan Clark, a partner at headhunter Berwick Partners, believes that looking outside the public sector is a good starting point for those at a recruitment impasse. "There can be a tendency to play it safe, whereas there's a real opportunity to bring in different skills and experience from other sectors."
The utopia is to find people who can cope with future challenges, Clark says. It is about balancing the budget but also making it work for consumers of public services. "It demands finance teams that form an enabling function that can work across and beyond the profession, rather than sitting on top of the finance silo.
"The stretch for the next generation is about being really good corporate leaders and seeing the challenges on more than just financial terms."
Image credit | Ikon