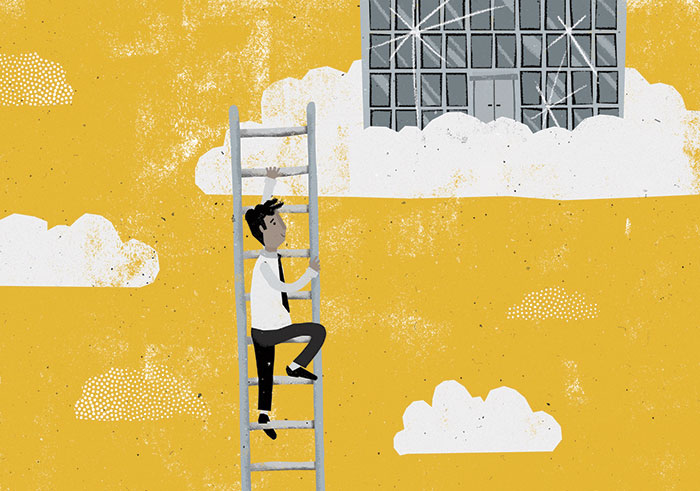 During the course of your working life, opportunities will arise when you can take your career to the next level. You might join a new company, switch professions, move departments, take on a temporary role or maybe even win that amazing promotion. As you step into that new environment, or while you are planning ahead to make a move, take the opportunity to review and reflect on what, or how, you might need to change.
Some changes are relatively straightforward – say, moving from an early-career role in a small finance team to a more senior position in a bigger organisation. This is a great chance to revise your behaviours or image to help ensure your new colleagues will see you less as 'junior' and more as an experienced member of the team.
One other common change that is often required is a redial on attitude. Maybe you currently enjoy being the team joker, for example. It makes you popular and may be good fun – but it rarely creates a great professional image. Adopting a more serious approach is likely to make a significant difference. It doesn't mean you instantly have to become deadly dull and never smile; simply curb your sense of humour in a way more appropriate for someone who takes their job, the team and the organisation seriously.
It is not always easy to rebrand behaviours, attitudes or leadership approach, especially if you are making a
big change, but it may help to think about the following questions:
● What do you want to change, and why? What difference will it make to your career prospects? Think about how to change your mindset in the same way you might have considered redialling your image.
● How could you achieve these changes? Think about a series of small steps and identify practical ways you can change.
● Who can help you to do this? Think about whether you can get others on board to help with the shift. Is there someone close to your working environment who can appreciate why you are trying to change, and how difficult the change might be? Their advice and encouragement could be invaluable.
Here are some other ways to move your career to the next level.
1. Mirror, mirror on the wall
Image and attitude contribute a good deal to our overall reputation. Your 'image' can help advance your career, or may hold you back. Have you ever spent time looking into a mirror, or reflected back on your own behaviours at a meeting? Conveying an image of being laid back, for example, may seem like a good idea, but may not be in the least reassuring to others; instead, they may see someone in danger of falling asleep most days. Consider what your image and attitude is and how you could improve it. Ask colleagues and friends about their perceptions of you, get to know yourself better and tap into that knowledge to make positive change. Make sure, however, that you remain authentic. Don't try to adopt behaviours you do not like, or pose as a marketing wizard unless you really are one.

2. Moving from team member to team leader
So you have made the grade and have been promoted to lead your colleagues. It might seem as if this is a simple move. However, consider that boundary between friendship (when you were part of the team or one of a close group of colleagues and friends) and the situation you are in now in your new role as team leader. People may, for example, ask for or simply expect favours, but favouritism invariably is destructive, creating an unequal team and resentment. Similarly, some decisions a team leader makes may be in the best interests of the company while being unpopular among individual staff. An effective team leader is someone who is firm but fair. The key is to remain friendly, while also making sure you change behaviours accordingly. Never, ever be afraid to challenge poor performance, as this is just a dead weight that will drag you and the rest of your team down.
3. Learn the 'right' skills
Another valuable way to improve your career potential is to improve your reputation by learning the 'right' skills. These include becoming a reliable, enthusiastic and motivated person who gets things done. Few organisations have enough of these star performers who enthuse others around them. Look at ways you can build these skills. It can be particularly valuable, for example, to work with a more experienced manager who is highly regarded as a 'can do' person, called in to sort out problems such as turnaround projects that have run into difficulties. Generally, they know how best to get things done and can influence other key players to support and help them.
4. Connect and build relationships at senior level
Whatever the size of the company, department, division or site, and at all levels of the organisation, it is people who get things done rather than simply processes. Even within a traditional hierarchy, there will inevitably be times when relationships, particularly at senior levels, can make all the difference. It may be simply getting through a crisis, or the twists and turns required to deliver something that has been over-promised to a customer yet still needs to be achieved.
If you invest time to build and maintain a strong network of colleagues and contacts across your working life, it will help your career (and your stress levels in difficult times). Remember, also, when moving to another company, to stay in touch with the great people you worked with before. Build on, rather than replace, your earlier network. It may well be that you don't know the answer to a question, but somewhere in your network there will be somebody who can help.
---
Top tips…

Do
(1) Consider whether the image you project matches your position or ambitions
(2) Be firm but fair – it may seem that favouritism could win you points, but ultimately it's destructive
(3) Take time to build a strong network, and learn from star performers
Don't
(1) Lose your authenticity by trying to be something you aren't
(2) Tolerate poor performance
(3) Forget former great colleagues when you move jobs
---