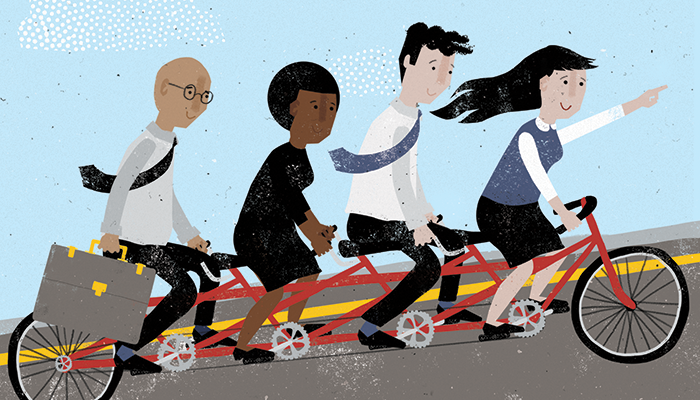 In an environment where budgets are tight and the pressure is on to deliver more for less, public sector managers need their teams to be highly engaged.
There is a definite correlation between engagement and performance, with organisations with the highest levels of staff engagement experiencing 12% higher customer advocacy and 40% lower staff turnover, for example, than organisations with low levels of engagement .
In NHS contexts, engagement levels can mean the difference between life and death, with patient mortality rates having been found to be higher in NHS acute trusts where there are low levels of employee engagement. In this country in particular, we have a real problem with engagement.
The UK has the highest proportion of 'actively disengaged' workers in Europe, and it is the actively disengaged who are most damaging to organisations. They are the people who are most vocal about their unhappiness, are more likely to be absent from work and who monopolise managers' time.
According to the Workforce Institute, poor engagement may cost the UK economy up to £60bn each year, with UK productivity consistently running at 16% less than the G7 average.
Recent research from Ashridge Executive Education has shown, however, that when it comes to teams, it may not simply be a case of staff engagement or disengagement. A new report suggests that engagement comes in shades of grey – with teams typically falling into one of four states of engagement.
So, as a leader, how do you recognise which category your team falls into? And what can you do to improve engagement levels?
Pseudo-engagement Pseudo-engaged teams are those who project an illusion of engagement. Here, team members are just 'out for themselves'. They are proactive but to serve their own needs – for example, by stretching the workload to fill time. Individuals in pseudo-engaged teams often feel a pressure to perform, but with little team support.

Team leaders in pseudo-engaged teams are proactive in giving feedback, but it is often the negatives that are pointed out. People do not go out of their way to help each other, and burnout is common. Pseudo-engaged teams have been found to be prevalent in healthcare. This may be because in many NHS frontline contexts, employees are targeted and rewarded at an individual level, with teams rarely being rewarded for collective performance. What is critical in these teams is that teamwork is encouraged, by setting individual and team targets, and by explicitly rewarding team output. Team leaders must stress that interdependence is the key to success.

Disengagement In disengaged teams, it is often the team leader who is the key barrier to engagement, either because of their emotional volatility, which has a destabilising effect when team members do not know what mood to expect from them from one day to the next, or because team leaders are poor role models. There is often a climate of mistrust and blame in these teams, and people do not feel safe to speak openly or honestly for fear of negative consequences for their careers. High levels of stress and burnout are prevalent as people reactively 'firefight' high workloads and unrealistic targets.

It is critical that the right action is taken to tackle disengaged teams. First and foremost, the organisation needs to recruit a team leader who is emotionally balanced, caring and who has strong people skills. In these teams, trust must be built by allowing people freedom and autonomy around how they achieve their objectives and by giving regular recognition and praise.

Complacency Some teams are in a state of complacency, where team members lack drive and are content with the status quo. Team members tend to do the bare minimum, work within their capabilities and within their set hours. Most team members are there just to earn a wage. It may be that work is convenient, with the location of their team enabling them to balance work with parenthood, for example. In complacent teams, members do not seek stretch or challenge, and some may be resistant to change or new ways of working. In our study, these kinds of teams were common in parts of the civil service. Despite not 'going the extra mile' as we would expect from engaged teams, people in complacent teams are loyal to the organisation and are proud of their length of service.

What is important in these teams is that complacency is tackled by varying the work or regularly introducing new projects. Rotating people between teams in the organisation can help to energise them, by exposing them to different contexts. Team leaders should offer opportunities for conversations with team members to explore whether they have the potential for higher engagement. However, organisations may decide as a result of these conversations not to invest in engaging these teams, instead seeing them teams as a stable backbone to the business and reserving them for back office or support functions, where routine and set ways of working are favoured.

Engagement Engaged teams are proactive and solution-focused, with a positive and fun atmosphere. These teams are seen as high-status within organisations and contain a climate of growth where close-knit team members trust and support one another. In engaged teams, team members use disagreements as a way of leveraging value from difference, which generates creativity and insight. Team leaders are positive role models, being open, fair and honest and giving team members autonomy and freedom.

To sustain high levels of engagement, leaders should continually challenge team members to stretch and excite – for example, by rotating leadership of specific projects. Regular feedback for individual and team growth is critical, and team leaders should encourage regular 'churn' so that team members move on to new teams internally and recruits can then bring in energy and new ideas.
---
Top tips…
Do
shades of grey rather than black and white when evaluating teams
Seek out team leaders who are emotionally balanced, with strong people skills
Try to keep things fresh by rotating teams or projects
Don't
Write off complacency – use it to build a stable business backbone
Underestimate the power of freedom and autonomy
Forget that feedback is key for individual and team growth