Quick wins
La La, Dipsy, D'oh! Accountancy giant PwC was embarrassed after a slip-up meant La La Land was handed the Best Picture award at the Oscars this year instead of the real winner, Moonlight. PwC has been overseeing the Oscar ballot for 83 years.
Winter pressures: NHS providers amassed a deficit of almost £900m in the first nine months of this financial year, driven by high demand during a "challenging winter". According to NHS Improvement, 5.34 million people attended A&E in the third quarter of 2016-17; this was 200,000 more than over the same period last year.
They'll outlive us all: Women in South Korea are expected to be the first people in the world to have an average life expectancy of 90 by 2030, according to a study by the World Health Organization and Imperial College London. Equality and better education and nutrition were given as the reasons for this.
Deteriorating delays
A marked deterioration in a range of services – especially hospital discharge – is clearly shown in the first joint CIPFA and Institute for Government Performance Tracker report, published at the end of February.
Delayed discharge from hospital rose by 38% between August 2010 and October 2016. While some of this is down to problems with the NHS, delays caused by inadequate social care have soared. Between 2010 and 2016, the number of days people were delayed in hospital because of problems with social care rose by 45% from 38,324 to 69,798. There is a particular problem with people waiting for a care package in their own homes; there was a 234% increase between October 2010 and October 2016 (see graph above). This is now the most common reason for delayed hospital discharge.
Teachers quitting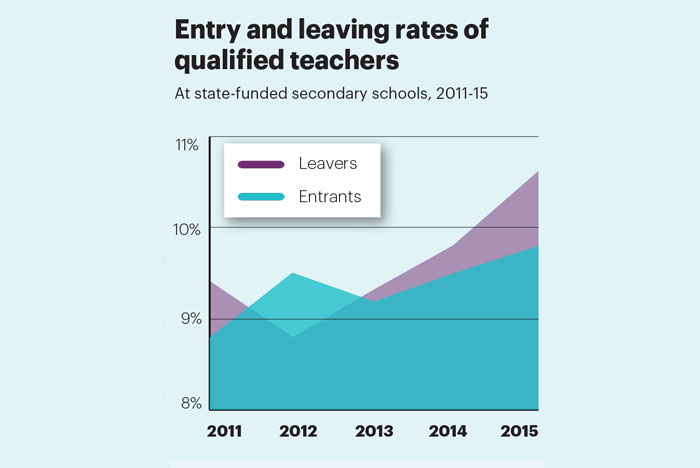 The number of teachers leaving state secondary schools has overtaken the number joining them, CIPFA and the IfG's Performance Tracker report shows.
Last year, the equivalent of 9.8% of the secondary teaching workforce entered the profession, but the equivalent of 10.6% left. A rising proportion are of working age.
The report notes that this would make the pupil:teacher ratio deteriorate but that would not necessarily harm educational quality. It adds, however, that teachers must be "of a high calibre, teach the right subjects, and be motivated to build a career in teaching and school leadership".
Violence in prisons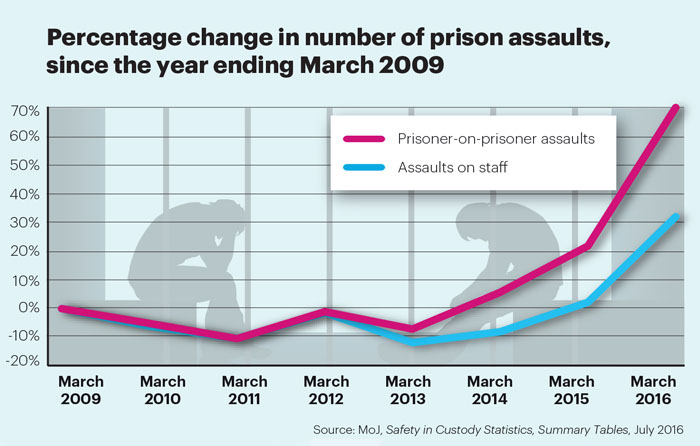 Attacks in prisons have been in the news recently. Justice secretary Liz Truss agreed a £5,000 pay rise for prison officers to boost recruitment and retention, as having more staff could help combat rising violence.
The CIPFA/IfG Performance Tracker report shows a steep rise in violent incidents involving both prison staff and inmates, a reversal of some progress on prison safety.
It says: "Assaults designated 'serious' more than doubled, from 282 to 646, with some managers having been taken hostage in their own prisons. In extreme cases, order has completely broken down – as the riots at HMP Bedford and HMP Moorland demonstrate."
Who's had enough of experts?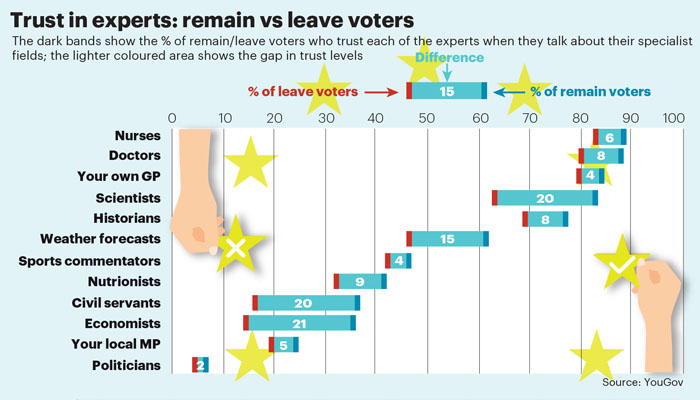 Leave voters, it appears, are a less trusting lot than their remain counterparts but both showed similar patterns when it came who they trusted. So people have had enough of at least some types of experts, to paraphrase Michael Gove's now infamous maxim.
The difference in trust levels was the greatest for civil servants, scientists and economists followed by weather forecasters, YouGov research found.
Politicians, with the exception of respondents' own MPs, were by some distance the least trusted professionals, with both remain and leave voters saying they have little faith in them. Doctors and nurses, by contrast, have the highest levels of public trust.
Mounting concern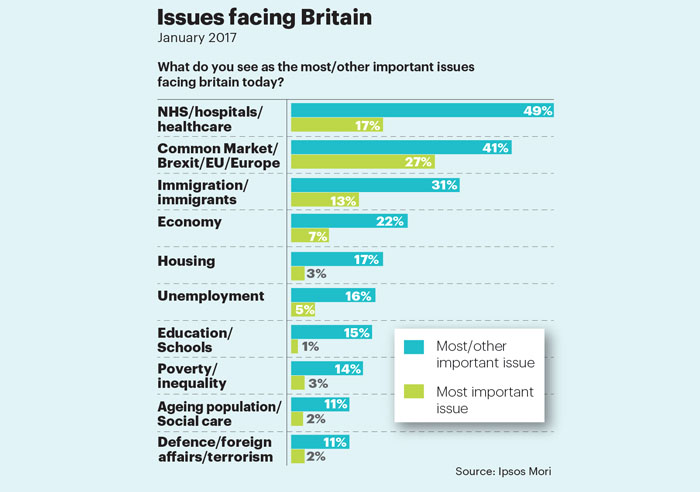 Concern about the NHS has jumped to its highest level since 2003, according to Ipsos Mori. The pollster's issues index for January shows that almost half (49%) of British people consider the health service to be one of the biggest issues facing the country.
The index also highlights a sharp rise in people concerned about the EU/Brexit, with levels similar to those last seen in July, shortly after the referendum.
Regarding the biggest issue facing the UK, Brexit still leads, nominated by 27% of respondents and followed by the NHS and immigration. Social care attracts a relatively low amount of public concern.
Cash for 16-18 learning declines
Funding for pupils aged 16-18 in England has been "continually squeezed", although education spending has risen over the past three decades, according to the Institute for Fiscal Studies.
While early years, primary and secondary schools have received greater funding since the 1990s, further education (FE) and sixth forms have lost out.
The report said 16-18 learning was the "big loser from education spending changes in the last quarter of a century".
In 1990-91, per-pupil spending in FE was almost 50% more than in secondary schools. By 2015-16, however, it was 10% lower. It has been the only major education area to be cut since 2010.
Spending per pupil in FE is likely to fall by around 13% between 2010-11 and 2019-20.
Luke Sibieta of the IFS said: "There is a strong case for the increased spending on early years education. The rationale for focusing cuts on 16-18 year olds and in further education is much less obvious."