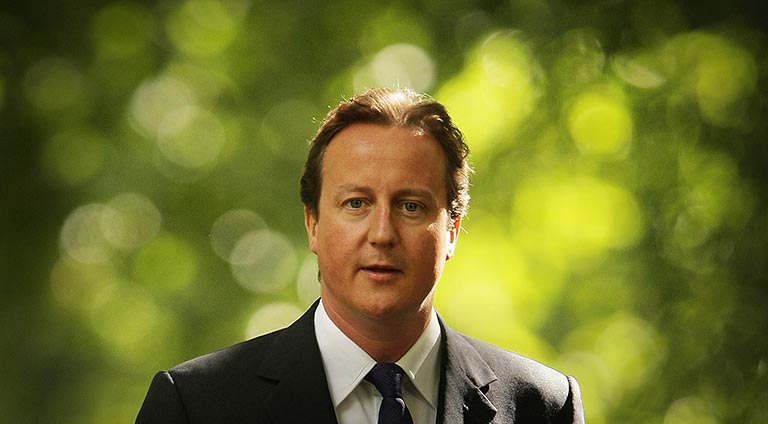 Speaking in Downing Street following one of the most unexpected election wins of modern times on 7 May, David Cameron was quick to set out his priorities for the next five years.
The prime minister said the Conservatives would 'make Britain a place where a good life is in reach for everyone who is willing to work and do the right thing', with the government's priorities based on what he called the party's manifesto for working people.
Pledges ranging from the creation of three million apprenticeships to more help with childcare and an increase in the income tax personal allowance to £12,500 would be met, he insisted, with millions of homes built and millions of jobs created to 2020.
'As a majority government we will be able to deliver all of it; indeed, it is the reason why I think majority government is more accountable,' he added.
However, missing from Cameron's speech to the nation was what remains one of the biggest issues of the next parliament – the party's plans for the public finances.
The Conservatives are aiming to run a surplus in 2018/19 by making a further £30bn in savings from government spending over the next two financial years, including £12bn in cuts to welfare.
The election manifesto states that the reduction will be achievable as it amounts to a continuation of the annual cost savings made since 2010, which George Osborne – since reappointed as chancellor – had shown were deliverable.
In an analysis of the spending plans, the Social Market Foundation's chief economist Nida Broughton says this is likely to be 'the lower bound' of savings needed.
'We know about the total amount of savings they're looking for, the £30bn which was in the manifesto,' she tells Public Finance. 'But it's worth bearing in mind that once you add in extra commitments that they've made in other areas like the NHS, international development and education, you have then got to find money from other departments to offset those extra commitments.'
There is also a third year of spending restraint planned, for 2018/19, when the government has pledged to keep government spending flat in real terms as it runs a surplus.
Add this year into the picture and the Institute for Fiscal Studies predicts that between 2015/16 and 2018/19 – even after a parliament of austerity – unprotected departments will face spending reductions of as much as 15%.
They've pledged to cut £12bn from social security, which would ease the cut on departmental spending,' says Rowena Crawford, a senior research economist at the institute.
Assuming they do find those savings, and you compare 2015/16 with 2018/19, they're actually looking to cut departmental spending by £24bn over those three years, she adds.
'Within that they're protecting certain areas – aid, schools and health spending are being either protected or increased in real terms – and over that period 2015/16 to 2018/19, that amounts to extra spending of around £6bn. So in terms of the cuts that are actually coming from other departments, that's about £30bn, which would be a cut of about 15% to those areas.'
Meeting the target for welfare savings will be key to protecting departments from even deeper cuts to meet the Conservatives' fiscal targets, which call for a surplus to be run in 'normal economic times' to pay down the national debt.
However, Crawford also points out that the policies announced so far – to reduce the household benefits cap from £26,000 to £23,000 and to freeze all working age benefits for two years from April 2016
– do not add up to 'anything like £12bn'. Even if that £12bn is found, the IFS's total savings requirement forecast adds up to nearly three times the £10.5bn budget for local government in the 2015 Budget, which encapsulates the challenge for public services throughout the parliament.
Richard Harries, deputy director of the public service think-tank Reform, says this will require the speeding up of reforms to service delivery.
As well as greater devolution to cities and pooling of budgets (see news, page 6), the Conservative manifesto pledges more innovation in delivery, including expanding the use of payment-by-results contracts – such as the Work Programme and the Troubled Families scheme – and more public service mutuals in an attempt to increase productivity.
Harries, a former senior civil servant, thinks the Conservatives' victory has given the party 'the confidence it needs to proceed with some quite radical reforms', especially around productivity.
'When you look at productivity in some of our public services, the figures on the face of it look very good – education productivity up and health productivity up. But that has mainly been done by holding wages down. You can do that in the short-term, but as the real economy picks up and wages go up elsewhere that's not a possibility.'
He anticipates that the Conservatives will launch a cross-government productivity drive to go beyond simply cutting to make savings, and says local government – which saw the biggest cuts after 2010 – shows what could be done.
In particular, local authorities provide a template for the next government to build up functional expertise across Whitehall that can drive improvements – especially in finance.
'Improving functional leadership is very much a race where central government is looking at the backs of local authorities, who are much further ahead,' Harries adds.
'The idea that you can actually not just build up functional expertise but treat it with a seriousness and a prestige in Whitehall is long overdue.
'Until that changes, the government is going to find it very difficult to get some of the savings out of Whitehall departments that are potentially there. You can drive up productivity, but it is the dull and boring things about good management and good leadership, and making sure central government puts the right framework in place so that local managers can actually deliver increases in productivity.'
In another financially straitened parliament, it is this work of improving public sector management and leadership that will be key to maintaining satisfaction with services, Harries concludes.
'The pressure on the public finances is not going to go away. The challenge for the government in the next parliament is to find new ways to transform our public services, which have to go beyond what we saw last time.'

Conservative manifesto pledges

■ Run a surplus on government spending in 2018/19
■ Introduce a law guaranteeing no rise in income tax rates, VAT or national insurance before 2020
■ Invest an extra £8bn a year in the NHS by 2020
■ Extend the right-to-buy scheme to housing association tenants in England
■ Build 200,000 starter homes
■ Ensure all people who work 30 hours per week on the minimum wage pay no income tax
■ Double free childcare allowance for three- and four-year-olds to 30 hours
■ Protect per-pupil funding in schools in cash terms
■ Maintain commitment to spend 0.7% of gross national income on international development

Did you enjoy this article?
to receive daily news from Public Finance to your inbox