By Chris Brown | 5 July 2013

Although times are hard in the public sector, finance staff don't have to abandon their career aspirations. There are still jobs out there and there is still room on the next rung of the ladder. Chris Brown explains how to cross to the next level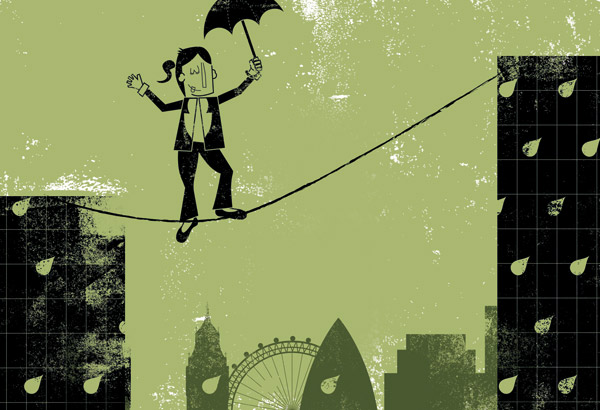 In these times of austerity, there is considerable pressure on public services. This takes many forms, including the constant push for further efficiency savings; public discontent with the services themselves; and the clamour for terms and conditions of public sector staff to be moved more into line with those of the private sector.
In addition, back-office services are less favourably regarded than frontline services, and are often seen as the primary target for efficiencies. Finance staff seem to suffer particularly in these times, as they are usually relied on to make new arrangements work.
Staff tend to respond to uncertainty and change by lowering their career expectations. They think they should feel 'lucky to have a job' and are influenced by popular opinion that 'there just aren't any jobs out there'.
Well, the good news is that there are jobs out there. Organisations have needs even in austere times. The needs might change, but someone has to ensure they are met – and that someone could be you.
However, like most other things in life, the 80:20 rule applies – that is, 80% of the spoils in the jobs market will go to the 20% of employees with the best career management strategies.
The following ten tips should give you a decided edge over the competition.
1. Take time to reflect

Careers management is about trying to match yourself – ie, your skills, interests, knowledge and preferences – to a job. Make a list of everything you have learned in your life. Go down the list and identify around ten skills that you are both very good at and love to apply – your 'motivated skills'. Then list the criteria for your ideal job and the constraints that limit your choice of job, such as location or work patterns.

2. Develop your personal brand

Draw up a 'summary message' about you by referring to your top motivated skills and your top criteria for a future employer. For example, you could say: 'I am looking to use my skills in financial management, staff development and lean methodologies in an organisation that is serious about customer service, values its staff, and is striving to be the best in its field.' Then use the essence of this message (though not necessarily word for word) in all your job search activities. And always behave consistently with this message.

3. Examine your mindset

Now take a good look at your job hunting attitudes. Examine your mindset through honest, objective eyes. Do you see even a trace of apathy? If so, change it to commitment. Determine, right now, to make a concerted effort to find a job that will 'tick all of your boxes'.

4. Understand how organisations like to recruit

People who want to change jobs often adopt a strategy of submitting numerous job applications. This scattergun approach can be successful but it fails to recognise that employers ideally like to recruit 'known quantities'. So try to become known to potential recruiters well in advance of a vacancy being advertised. If not the recruiter, then find someone else who the recruiter respects and who is willing to recommend you.

5. Showcase your talents

Consider something at work that has gone well and turn it into a short story that you can relate at appropriate times. Give the story an introduction (what the problem was), a main body (what you did), and a conclusion (what the impact of your actions was). Then do more of these until you have a 'collection' of such stories that you can select from when required.

6. Prove how much you want the job

List the needs that you believe the organisation is seeking to fulfil through this particular role. Then consider for each of these what evidence you have that you meet those needs. This will enable you to come across as someone who really understands the recruiters and what they are looking for.

7. Network, network, network

Place yourself in situations where you expand the number of people who know you and view you positively. The career development author John Lees likens this to building a 'chain of helpfulness'. The starting point should always be what you can put into the relationship, not what you can take out of it. Start off with people you know very well and then seek introductions to expand the number of people you know.

8. Use social media wisely

Always aim to network face to face. Social media can be used to get new contacts, but only as a stepping stone to personal contact. Always remember to project an image on social media that is consistent with your personal brand.

9. Try jobs on for size

Most people wait until they are in a new job before finding that they don't like it. If you are interested in a particular field of work, an organisation, or a job, do your research in advance. Get an introduction to someone who is actually doing that job or who works at that organisation. Ask for a small amount of their time to speak to them about what is good and bad, and what the future might hold. Wherever possible, go to visit the person at their work. That way you can get a feel for what it is really like to work at that place or in that field of work.

10. Keep your energy levels high

Anticipate a reduction in your enthusiasm over time. Consider how you can build in enjoyable activities each week to re-energise yourself. Consider what moral support you can enlist, maybe working with other people interested in changing jobs to keep yourselves motivated. Always choose positive people who will continue to encourage you.
Chris Brown is managing director of NHS Accountants Coach, a CIPFA member, and a Clinical Commissioning Group lay member.  He is also a former NHS director of finance and deputy chief executive. One of his coaching programmes is 'Taking your Career to the Next Level' (www.nhsaccountantscoach.co.uk)