By Mike Thatcher | 1 July 2013
CIPFA's new president, Jaki Salisbury, has built a 'can-do' reputation, and won the loyalty of her colleagues for her hands-on tackling of local government problems. The 'treasurer who likes to say yes' tells Mike Thatcher how her career and beliefs have shaped her as she steps up to the plate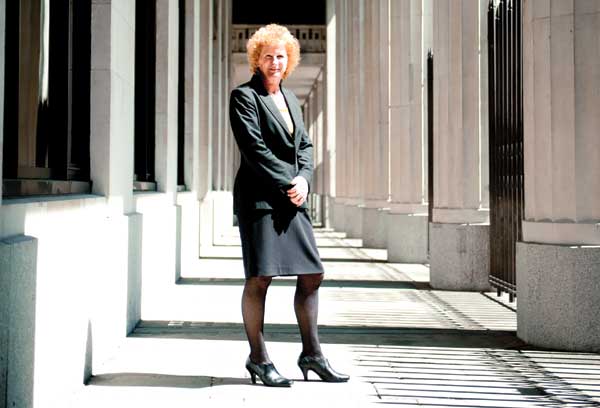 Jaki salisbury enjoys a challenge. Give her a problem, and she'll sort it out. It's what her reputation is built on, she says – so much so that 'delivery guaranteed' is prominent in her LinkedIn profile.
Salisbury has certainly had a few ­problems to deal with during her career in local government. Acting in an interim capacity, she's recently turned the finances around at two borough councils – Slough and Rushcliffe – having previously helped launch Central Bedfordshire unitary authority amid a huge political storm.
'I've always delivered everything I said I would, whether it's new offices, a new financial system or a balanced budget,' she tells me as we meet at CIPFA's central London headquarters. 'If there's a problem, throw me in there, and I'll relish sorting it out. I like to get involved in things that are big and difficult, and to help people to see how it can be made to work.'
Her can-do attitude will do her no harm as she prepares to take up the CIPFA presidency. It's a crucial time for the institute, with current chief executive Steve Freer standing down in September after 13 years in charge and public services facing yet more cuts following June's Spending Review.
Salisbury will bring the same pragmatic approach to the presidency as she has to her finance and chief executive roles in local government. The nicknames she has acquired over the years give a strong ­indication of her likely operating style.
As chief finance officer at the Vale of White Horse District Council, she was dubbed 'Broad Brush Salisbury' for her ability to provide councillors with summarised financial information and the 'treasurer who likes to say yes' for her proactive approach.
Later, as finance director and then chief executive at Mid Beds District Council, she was known as 'Just-in-time Jaki'.
'She was always whirling from one thing to the next. She didn't hang about at all,' remembers Tricia Turner, who was leader of Mid Beds at the time.
'Jaki is a hands-on lady. She could always offer me an alternative. Not every chief officer can do that. They are very focused on the way forward that they believe is the only way, but Jaki was very good at finding creative solutions.'
Salisbury's abilities were recognised early on, enabling a rapid rise up the local government hierarchy. Beginning her council career in a junior finance role, she was a deputy treasurer at 29, chief finance officer at 35 and chief executive at 40. She was also the first woman elected to serve on the national executive of the Society of District Council Treasurers.
The greatest challenge of her career to date, she suggests, was when she was appointed interim chief executive in April 2008 to deliver a new unitary council – Central Bedfordshire. This was formed through the three-way merger of Mid Beds and South Beds district councils, and 60% of the county council (the rest of the county went to another unitary – Bedford Borough).
The merger was strongly opposed by the county council, which had its own plans for a unitary. An ensuing judicial review produced entrenched camps and a heated ­political atmosphere.
Once the result of the review was ­confirmed, Salisbury had to oversee the transfer and bring together 700 functions and services by a tight nine-month deadline, then appoint a new management team and make significant cost savings.
Salisbury calls the unitary 'my baby' – and it clearly means a lot to her. During the 20 months she was in charge, she had to make some tough decisions, which did not always make her popular. So when the chief executive role was formally advertised, she decided not to put her name forward.
 'I realised it needed to be somebody fresh, who was not from the area, who had not been involved in the difficult and painful process. But it was like giving up my baby for adoption.'
Since leaving ­Central Beds in October 2009, she's been focusing on interim finance roles, a number of directorships and, now, the impending CIPFA presidency. It has also been an opportunity for her to spend more time with her husband, daughter and the two Staffordshire Bull Terriers they took on from a rescue centre last year.
She will officially become president at the institute's annual general meeting ahead of its annual conference, which takes place in London on July 9–11. Salisbury will open conference proceedings and play a prominent role in events over the three days.
But Salisbury's immediate priority will be the chief executive position. Salisbury has been a member of the appointment panel selecting Steve ­Freer's successor, and an announcement is likely to be made at the conference. The new chief exec will be set tough targets for membership growth, and will be expected to be a vocal presence in ­support of members.
'We are a membership body,' Salisbury says. 'It is about people. CIPFA has to be about member support and growth, in both the UK and ­internationally to continue to be a ­vibrant, relevant and useful ­organisation.'
She continues: 'CIPFA should have a louder voice in terms of influencing policy and ensuring that implications of policy changes are understood. Members want to hear CIPFA on Radio 4 – or even better, on Radio 2 and TV. We have to stand up and be counted.'
Tim Day, who was ­previously on the CIPFA Council with Salisbury, says she will bring great enthusiasm to the role of president. 'She will be very good at engaging with the membership and relationship-­building – particularly with the next chief ­executive.'
The new president understands the ­sacrifices members have to make to become qualified. Her finance career began via an ONC in Business Studies and the Association of Accounting Technician's qualification before taking her CIPFA exams – all done part-time while she held down ­substantive posts.
She believes CIPFA should make it easier to study for its qualification, make better use of high-profile members and encourage more members to volunteer. Communications with schools and universities should also be improved as the appeal of financial careers in the private sector diminishes.
'A lot of graduates do actually want to work in the public sector. They want to do something that has a value other than chasing money, and so we need to harness that,' she says.
Salisbury is very  ­passionate herself about public services, and emphasises that employees in local government and other parts of the public sector are ­'trustees' of public money. They should look after it carefully and never waste time or resources.
'It is about taking ownership and accountability for public money. It isn't our money; it's entrusted to us. If people go off sick without good reason, or don't work as hard as they could or don't engage their brains fully, that's a misuse of public funds to me.'  She adds that the 'customer is key', and both the public and private sectors have to remember who they are providing services for.
Salisbury was born in Nottingham, but spent her early childhood years first in Australia and then in the US, where poor customer care would not be tolerated. It was quite a shock when she returned to Nottingham, aged 12.
'I was always horrified when I went into women's clothes shops and found the sales girls chatting on the tills. If as a business, as an organisation, you drive things around the customer, you will succeed.'
Salisbury's straight-talking can ­sometimes be disconcerting, but Tricia Turner says she has the ability to get on with ​­everybody and to bring people with her. She doesn't do 'pomp and ceremony' – instead, she just rolls her sleeves up and gets on with the job.
Although ­Salisbury is an accountant, she admits to being a 'people person rather than a numbers person'. The best ideas, she says, come from those working closest to the customer, and employees should always be encouraged to make suggestions for improving services.
'Jaki is very much a team player,' says Turner. 'In her time as chief exec of the old Mid Beds district council, she engendered huge trust and loyalty among the staff. She has enormous energy and resilience, and is totally loyal to the organisation she is working with or for.'
And, Turner ­suggests, Salisbury has another quality that will stand her in good stead: 'She was the one person, quite frankly, who could make sense of local government finance. My God, it's not easy.'

Jaki Salisbury will be opening the CIPFA Conference on July 10. This article first appeared in the July/August issue of Public Finance magazine