By Gill Kelly | 1 February 2013
Huge spending cuts and radical changes in the public sector are not only shrinking the existing workforce but making it harder for jobseekers to find positions. As more and more people apply for fewer and fewer jobs, candidates need to find ways of standing out from the crowd. Gill Kelly explains how to go about it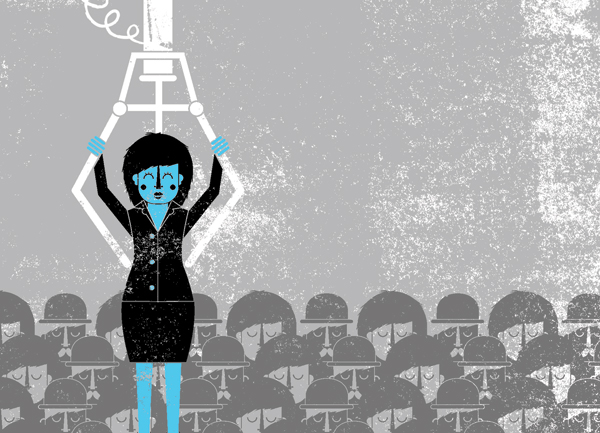 The public sector is in a state of enormous upheaval. We are experiencing the deepest cuts to public spending in living memory as well as radical changes in health, education and local government. What's more, we're witnessing moves towards the commercialisation or even privatisation of public services.
In the current economic climate, job uncertainty is high and the market is saturated with applicants, ranging from new graduates to seasoned staff working beyond the usual retirement age. In many cases, a large number of people are competing for a handful of positions.
All this means that anyone going for a public sector job needs to have a broad understanding of other roles in their workplace. For instance, many public sector workers need to know something about finance even if they are not accountants. The broader your skills and knowledge, the greater your chance of success.
That means you will need to hone certain skills to stand out from the crowd and ensure you are picked for the post. Successful candidates will be aware of these vital abilities and demonstrate them throughout the recruitment process, from CV to interview.
So what are the main things public sector employers expect from candidates in 2013? Here are the top ten, based on observations of the current market and professional experience. These requirements will obviously continue to evolve along with the changes in the public and private sectors but they provide a firm starting point for anyone looking to secure a position this new year.
1. Be flexible

Flexibility has always been important but now it is vital.  Previously, this skill was important for interim candidates in particular, as they would enter a new working environment for short periods of time and need to adapt to that before moving to a different position in another working environment. However, with the streamlining of public sector departments, organisations now expect all staff, permanent and interim, to be able to turn their hand to various jobs, cope with change and take responsibility in new situations.

2. Hone your communication skills

As the public sector becomes more commercial, employers will search for candidates who have strong communication skills and are customer-friendly. Those who can work between departments will flourish. As the public sector strives to become more efficient, joint working has become integral. This means it is important for candidates, especially those working in the financial sector, to be able to present information clearly to those who are unfamiliar with technical terms.


3. Develop business acumen

Demonstrating business acumen in this context means presenting financial information in a way that will allow it to be easily understood and used by decision makers for wider business purposes. Simple regurgitation of figures will not do. Used properly, such financial information should be able to inform better management information and decision-making, adding value and insight for decision makers. It will also help make the writer an indispensable part of the organisation.

4. Show enthusiasm

Only foolish applicants fail to research an organisation before their interview. But the ideal 2013 candidate will go further, using the research to illustrate how they would fit in to the organisation and their skills would add value to it. This will demonstrate dedication and commitment.


5. Prove you can Overcome obstacles

During these turbulent times for the public sector, candidates need to show they can identify and overcome potential obstacles. A lot of this comes down to a person's 'inner game' or the framing of an obstacle. For example, as budgets are shrinking, many services are being contracted out to private organisations or shared. Candidates should show that they are able to accept and adapt to these changes, such as understanding the different priorities of private and third sector parties while still safeguarding public money.

6. Showcase your abilities

Candidates should make the most of their skill set. Instead of just saying that you can do something, back it up with practical examples of how you have applied the skill in a previous work setting and how you could use it in the organisation concerned. If you talk confidently about your abilities, the employer will get the impression that you are able and confident.


7. Show that you can Innovate

As the public sector faces a shortage of funds, employers seek individuals who can come up with innovative responses to budget cuts. Candidates need to show they are equipped to bring in practices that will enhance productivity, streamline processes or save costs. For senior appointments, innovative leadership skills are important as projects are increasingly being managed in-house.


8. Have more of a commercial mind-set

In an effort to become more competitive, employers will look for individuals who demonstrate a commercial edge. There is now a greater emphasis on procurement and contracting in the public sector. This is something that public sector workers might not previously have taken any interest in. If you feel this is lacking from your employment skills, it is worth looking to see if any of your previous experience could be applied commercially. Then use this to demonstrate how much value you could add to an organisation.


9. Show you can meet targets

In a cut-throat job market it is imperative to illustrate that you can hit the ground running and deliver results quickly. Employers can no longer allow newly appointed employees a grace period but instead expect them to enter a working environment without disrupting the existing rate of productivity. Managerial candidates can prove they've got what it takes with examples of successfully managing projects while balancing reducing resources.


10. Keep up to date with the sector


Remaining aware of the issues affecting the public sector is vital. You should show that you are in touch with and passionately interested in what is happening. You should also demonstrate a good awareness of emerging trends, legislation and software. If offered any training, always accept. It will help you to stay abreast of changes and show your commitment to professional development and personal improvement.

Gill Kelly is associate director at CIPFA Recruitment Services