By Mike Thatcher | 1 November 2012
The first female general secretary of the TUC will have her work cut out dealing with public sector disputes and the union brothers. But don't expect Frances O'Grady to start ­tub-thumping any time soon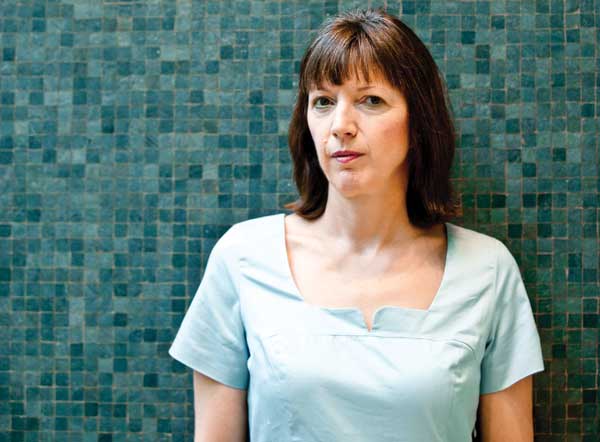 A lot rests on the shoulders of Frances O'Grady. The incoming general secretary of the Trades Union Congress will be expected to play the role of the 'moderate face of trade unionism' just as potential disputes escalate across the public sector.
There's uproar over the government's pension reforms, wages cap, proposals for regional pay and attempts to shrink the state, which could mean the loss of 750,000 public sector jobs by 2017. In September, delegates at the TUC conference voted for co-ordinated strike action against the pay freeze.
This, of course, follows on from last November's one-day strike over pensions. Almost 2 million public sector workers took part in what was described as the biggest dispute since the General Strike of 1926. Schools were closed, operations cancelled and travel disrupted as town hall staff and civil servants walked out.
More recently, the TUC staged its ­anti-austerity march and rally – 'A future that works' – on October 20 in London, Glasgow and Belfast. It's quite possible that large-scale industrial action could follow by the spring of 2013, with Unison and the GMB alone threatening to bring out their 1.5 million members in local government and health.
So should we expect another strike on a par with last November? 'I don't think that is on the cards, but we'll have to see,' O'Grady says as we meet at the TUC's London headquarters. 'Unions are focused on making the public case around the unfairness of pay caps and trying to ­persuade the ­government to change course.'
O'Grady, who will succeed Brendan Barber as general secretary at the end of the year, is regarded as a 'reasonable' union leader with a more considered style than some of her colleagues across the movement. John (now Lord) Monks, Barber's predecessor, claims the new leader uses 'diplomacy, charm and imagination', which is not always the approach taken by her union brothers.
She does confess to a few 'tub-thumping' moments, but more often with her ­children when they were growing up. 'Different leaders have ­different strengths. I would much prefer to put across my case through persuasion. But just ­occasionally you have to be tough as well.'
That toughness will be tested as ­industrial tension mounts. Being head of the TUC requires a two-pronged approach: she will have to articulate the concerns of ordinary union members, while trying to keep some unity among a disparate group of what used to be called union barons.
While musing on whether we can call her a 'baroness', O'Grady denies that the political agendas of high-profile union leaders – including Unite's Len McCluskey and the RMT's Bob Crow – will make her job impossible.
She says, diplomatically: 'Trade union leaders have different styles, for sure, but they are expressing the frustration and anger that ordinary families feel. We are a big, broad church. Of course, there are going to be occasionally different views, but I think our values are what unite us and we want to see a fairer Britain.'
O'Grady's significant experience as a trade unionist will stand her in good stead. She has been the TUC's deputy general secretary for almost ten years, having previously launched its Organising Academy and run campaigns. Before then, she worked as a researcher for the Transport and General Workers Union.
As the first woman to head the TUC in its 144-year history, O'Grady hopes to 'nail some of the myths' that suggest trade unions are male-dominated and sexist institutions. 'Three in ten general secretaries are now women. Four in ten of our general council are women. If every public body or private boardroom hit that benchmark, we would be in a different country.'
A single mother of two children, O'Grady says she can appreciate the importance of public services to ordinary working women and men. Low pay will be her first challenge.
The TUC believes the government's approach to wage restraint is unfair and self-defeating. Chancellor George Osborne has promised that the current pay freeze will be followed by a 1% cap in 2014 and 2015. But O'Grady says that the economy is in dire need of growth and not more austerity. One way to achieve this is through ­boosting pay packets.
'We have to see a shift away from the scale of cuts that are being implemented, to find a way of building "wages-led growth". People are not spending because they have no confidence that they will have a job next week. One way to reboot the economy is for wages to gently rise.'
O'Grady has no truck with the view espoused by the government, and by Eds Miliband and Balls, that there is a trade-off between pay and jobs – that zero pay increases mean fewer redundancies. She claims that public service workers will have endured a 16% real-terms cut in their income by the end of this Parliament, including pensions.
'Unions are as keen as anybody to protect services and to protect jobs. But there is a fundamental misunderstanding that cutting pay is going to help the economy, when all the evidence is that the opposite is true.'
She suggests that the large profits made by some private suppliers in local government and the NHS have hardened attitudes among public sector workers and their unions. According to TUC estimates, a third of all public spending is now on outsourced services.
'It is hard for people to accept that they should tighten their belts when they look at private companies often raking in quite significant profits. So if money is being sucked out of the public sector into shareholders' and top bosses' pockets, then it is very hard to ask public service workers to make sacrifices.'
Unsurprisingly, O'Grady is equally scathing of government plans to introduce regional pay. In the 2011 Autumn Statement Osborne said there was a case for public sector pay to better reflect local labour markets. One think-tank, Policy Exchange, estimated that the change could save £6.3bn a year.
Subsequently, a number of Liberal ­Democrats have criticised the plans. O'Grady says that most public sector employers are opposed, fearful of the extra administrative costs and the impact on local economies.
'It can't be fair that a teacher working in a tough school in inner ­Newcastle should get less than somebody working in a leafy suburb in the south.
'It may be called regional pay, or local pay, or zonal pay, but what we are actually talking about is lower pay outside of the south. The impact that will have on the private sector could be catastrophic, just at the time when many good businesses are already struggling to keep afloat.'
O'Grady sees the regional pay proposals as part of an ideological push by elements in the blue half of the coalition to finish what Margaret Thatcher's governments of the 1980s started. She quotes environment minister Greg Barker, who told an audience in the US that the coalition was inflicting cuts that Thatcher 'could only have dreamt of'.
If there is an ideological debate to be had, the general secretary designate is confident the public will come down on the side of Plan B. 'The public in general feel that both cuts in services and cuts in real pay are unfair. They are increasingly seeing that it is not just unfair, it is damaging the economy. It's choking off demand.'
Whatever happens, it's clear that O'Grady will have a bulging in-tray for some time to come. It means less time to watch her beloved Arsenal or sneak off to the local arts cinema to watch European films.
She accepts that working life is going to be hectic, but confesses to 'always being a bit of a grafter' over her career.
'Anybody who works for the trade union movement doesn't stick to the 9 to 5,' she says. 'But obviously within the terms of the Working Time Directive.' 
This article was first published in the November issue of
Public Finance
magazine