By Tim Smedley | 1 December 2011
Derek Myers is no ordinary chief executive. Having run one London borough for a decade, he has taken on responsibility for a second and is sharing a range of services with a third. He tells PF how this innovative partnership works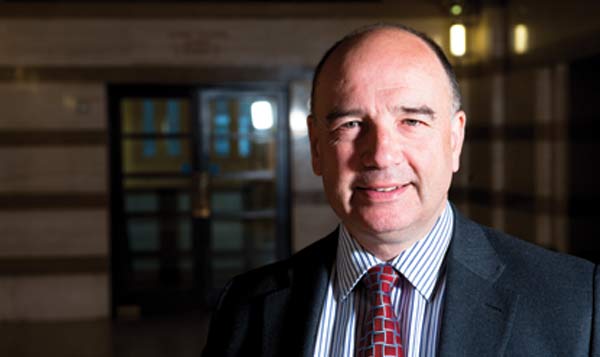 On November 1, Derek Myers became chief executive of the London Borough of Hammersmith & Fulham. Nothing unusual in that – except that he also holds the same post at neighbouring Royal Borough of Kensington & Chelsea.
Myers is the first chief executive to run two unitaries at the same time. But he is unlikely to be the last, he tells Public Finance as he sits in his Hammersmith & Fulham office for the first time. (So new is he that his predecessor's name, Geoff Alltimes, is still on the door and he has to introduce himself to the press officer chaperoning PF for the interview.)
'The general trend is only in one ­direction,' Myers continues. 'But ours is the boldest and most complete realignment of management functions so far attempted.'
It's hard to disagree, for Myers' ­responsibilities do not end with his dual post. He also jointly presides over a radical tri-borough arrangement, serving a combined population of 650,000. His two councils have joined with the adjacent London Borough of Westminster to share many back-office and frontline services. The three Conservative-led authorities expect to save at least £35m by 2014, with 150 management and 350 staff posts to go by spring 2012.
Already in place are three-borough directors of adult social care, children, and libraries, and a two-borough environment services director. Communities Secretary Eric Pickles has praised the arrangement as 'the future of local public services'.
It all started four years ago, Myers recalls. He had been head of Kensington & Chelsea for six years. 'Hammersmith wanted to tempt our director of highways and transport across the border. Because we got on, they told us and we said "hang on – that way you win, we lose. Could he not do both jobs?" '
An innovative agreement was struck to share the post. 'That was our first experiment and it went well. It proved there was no great sense of loss, there was even a sense of advantage. We then tried it with a director of law, then the head of accountancy. We then adopted a protocol whereby you didn't recruit any senior member of staff without talking to your neighbour first.'
When they jointly approached Westminster to discuss broadening the arrangement further, he says: 'We could say this is not just a punt, we know it works and we know how it works.'
Things might have stayed at that level were it not for the austerity measures imposed by the Coalition government. The three boroughs face a combined budget challenge of £100m by 2014. On top of that, revenue from car parking and planning has fallen due to the recession.
'There was no easy way out,' Myers explains. 'So 18 months ago we had a nothing-ruled-in, nothing-ruled-out discussion of how we could work together further.'
He admits that cutting one chief executive position, saving £200,000 in salary, is more of a token gesture; a useful bone to throw to politicians ­worried about ­executive pay.
The big savings are to be found in management savings, aggregated procurement and 'by challenging why authority A spends more than authority B or C in a way that doesn't give better outcomes', he says.
'That's been the real revelation – when you put all your numbers together in a trusting way, you can deeply compare and contrast. There's big money in that. And you wouldn't achieve it with different people at the top of each organisation who, with the best will in the world, are going to be defensive.'
Westminster has remained outside of the full-scale sharing. It was decided that its role as an Olympic host borough (including the triathlon in Hyde Park and beach volleyball at Horse Guards Parade) required a dedicated chief executive. However, with an agreement to review the situation after the Games, one gets the sense that the first three-borough CEO is not far off. And that, were it to come his way, Myers would relish it.
Not everyone agrees that sharing management accrues dramatic savings, however. The New Local Government Network believes that, at most, back-office functions account for 8.9% of total spend, making even savings of 40% amount to only 3.6% of total spend. And talking with Myers, it's clear that a lot of work is required under the bonnet to keep the project from stalling.
'We are drawing up mandates, statements by each authority of what they want from a service,' he explains. 'Take adult social care. There are a range of things which are different in those three mandates in terms of the volume of funding that each authority wants to commit and the way they want that funding distributed.'
This 'doesn't cause any difficulty at all in managerial terms', he insists. 'Contractors work to a specification that sets out different service levels. Street cleansing contractors know that their service specification for a market area – say Portobello Road – is different than that for a residential cul-de-sac. There are lines on the map and as you step across that line the world changes – that is true today and it is the nature of local government.'
There are also some services that cannot be shared. The division between what is too locally sensitive and what isn't is necessarily subjective. Myers' rule for any partnership to work is trust and camaraderie at the top, so such conversations can be held openly. For this reason, he says, it wouldn't work if central government imposed shared arrangements on councils.
One of the services that the boroughs agreed not to share was planning. 'It has to speak to the local agenda and wishes of local people,' says Myers.
Policy and communications also won't be shared, he adds, because that department 'reflects each borough's need to communicate with its own residents'. However, the councils expect to be able to procure print and other items more cheaply.
This appears to provide an answer to Pickles' rhetorical plea last year when he asked: 'Is it really right, in this day and age, to have separate planning ­departments and communications teams?'
Constitutional arrangements were also not up for change. Myers says: 'There are always going to be three councils, which will always set their own budgets, raise their own tax, publish their own accounts, and be free to pursue their own agendas. We signed a sovereignty guarantee which stated that.' Alongside the mandates, this ensures that decisions do not affect the individual boroughs' ­political independence.
Some departments will retain ­separate heads but share certain expertise and personnel. Finance is one of these, because each borough's tax, budgets and accounts are independent.
'We will never share directors of finance,' says Myers. 'But we share a deputy director of finance because that person has deep expertise about accountancy rules, CIPFA expectations, and so forth. Where you get particular specialist expertise we will aim to share that. Our shared insurance manager is a good example of how three authorities working together should be able to get better rates.'
Rather than being daunted by such an intricate web, Myers seems genuinely enthused. He lives and breathes the boroughs he works in and is full of local knowledge ('did you know that Harrods receives more visitors a year than Belgium?'). He is also relishing his changing role as a professional manager. 'I've learned more in the past 18 months than I have at any other stage in my career.'
But he adds: 'We are freer than we've ever been to invent our own version of local government. The thing that we've got to prove to ourselves, and to others, is that councillors are just as well ­supported in their work.'
That, and the quality of service, is where the big question marks hang.
Curriculum Vitae
2011 – present:
Chief executive, London Borough of Hammersmith and Fulham
2000 – present:
Chief executive, Royal Borough of Kensington and Chelsea
1997-2000:
Chief executive, London Borough of Hounslow
1992-1997:
Director of social services, London Borough of Hounslow
1977-1992:
Social worker and social services manager – Essex and London