The data obtained by the Health Foundation from a freedom of information request to the Nursing and Midwifery Council (NMC) showed a drop from 1,304 nurses from the EU registering in July last year to 344 two months later in September - to just 46 in April this year.
Anita Charlesworth, director of research and economics at the Health Foundation, said: "The recruitment and retention of nurses is one of the biggest challenges facing health and social care, with a shortage of 30,000 nurses in England alone.
"The drop in EU nurses registering to work in the UK could not be more stark – just 46 registered to work in the UK in April."
Without EU nurses it will be even harder for the NHS and other employers to find the staff they need to provide safe patient care."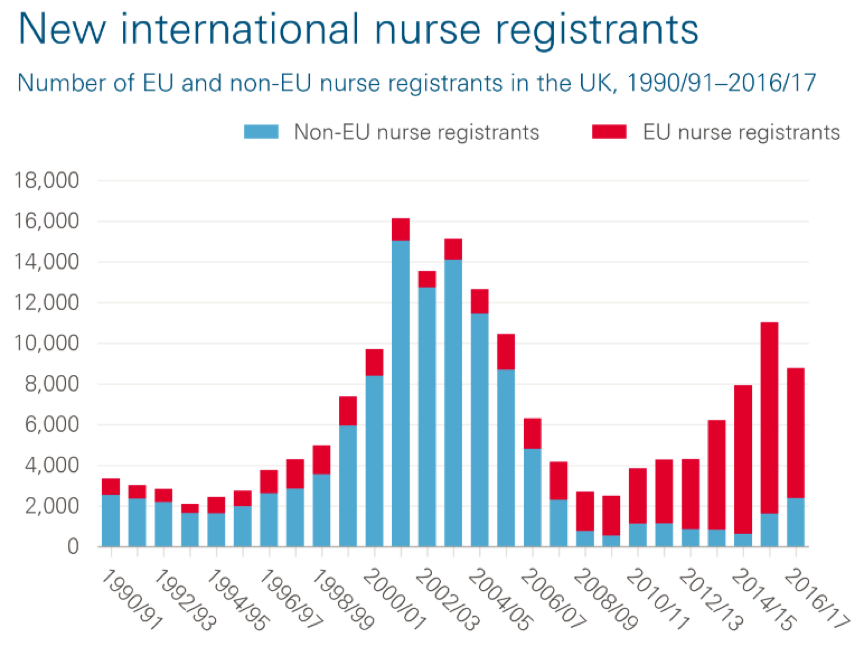 The Health Foundation noted that since 2008 the bulk of nurses registering in the UK have come within the UK.
PF has previously reported about staff shortages in the NHS and social care, which charities and health service experts have warned could be detrimental to these public services.
Charlesworth said the chronic shortage of nurses was the result of short-term planning and cuts to training places, urging a long-term approach to workforce planning to be adopted to offset the further loss of EU nursing staff in the near future.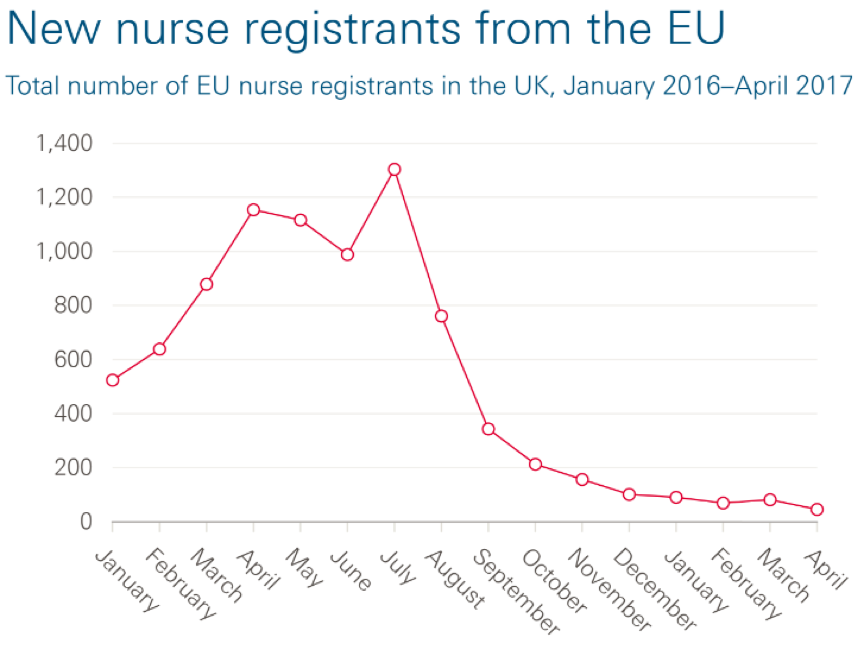 Liberal Democrat shadow health secretary, Norman Lamb, said: "These figures are profoundly worrying and the possible implications for the NHS and patients cannot be underestimated.
"The government has to face up to the impact their refusal to guarantee EU citizens to remain in the UK after Brexit is having.
"It is a political choice they have made and it is going to harm our services, in particular the NHS."
Niall Dickson, chief executive of umbrella-group the NHS Confederation, said: "EU nationals make a hugely important contribution to the delivery of health and care services, and it is only right that this is recognised.
"Their status after the UK leaves the EU is still uncertain and we continue to urge the government to guarantee the rights of EU nationals as soon as possible."
He said the government should commit and agree a deal with the EU at the start of the negotiations to allow the NHS to be "able to recruit and retain a motivated and qualified workforce fit for the 21st Century".
Niall Dickson is a speaker at this year's CIPFA annual conference on 12 to 13 July in Manchester. Please click here to book a place.