The Office for National Statistics has found that between 2013 and 2017 UK spend on healthcare was the equivalent to 9.6% of GDP – only Italy spent less at 8.8%.
In 2017, the UK spent £2,989 per person on healthcare. This was lower than other developed economies including France (£3,737), Germany (£4,432) and the United States (£7,736).
Expenditure as a percentage of GDP also fell over the five-year period - from 9.8% to 9.6% - but it rose in four of the G7 countries, according to the ONS data released today.
Of the £197bn the UK spent on healthcare in 2017, £37bn was spent on health-related long-term care, such as old age and disability related conditions, equating to £560 per person. This was less than most other northern and western European countries but similar to France.
For the UK, this long-term care included residential and nursing care or home-based care financed privately or through local authorities, care costs reimbursed through the Carer's Allowance, as well as palliative care.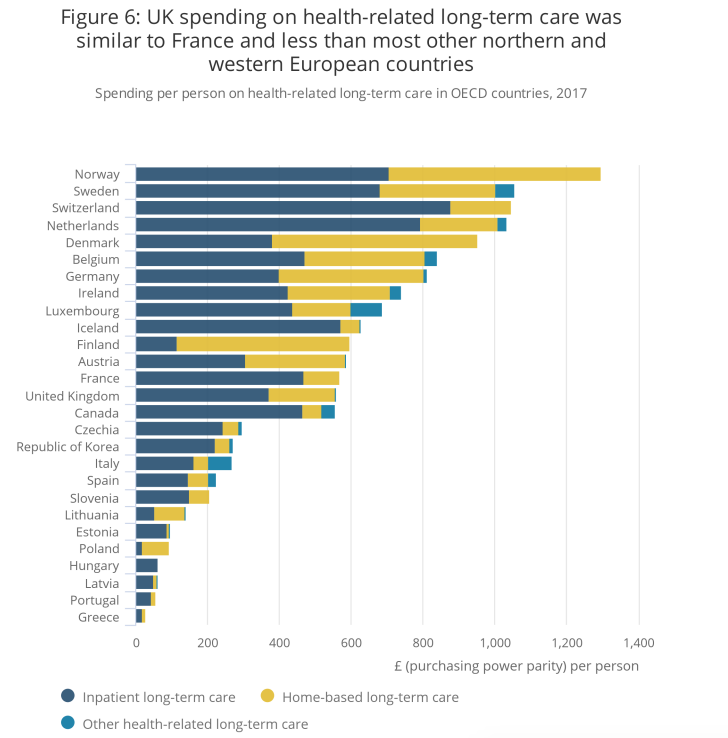 When compared to other OECD member states the UK sits just above the median level of healthcare spend per person at £2,913.
In almost all OECD countries at least half of the revenues funding healthcare come from public sources and the UK has one of the highest percentages on this score at 79.4%.
Those with the lowest levels of public revenues funding healthcare spending were the United States (50.2%), Chile (50.1%) and Switzerland (30.5%).
The ONS said that in all OECD countries most healthcare is accessed through mandatory financing schemes, which take a variety of forms.
While healthcare is provided by the NHS in the UK, other countries have insurance-based systems, where many healthcare services are provided through either government-run social health insurance schemes, or through the mandatory uptake of private health insurance.