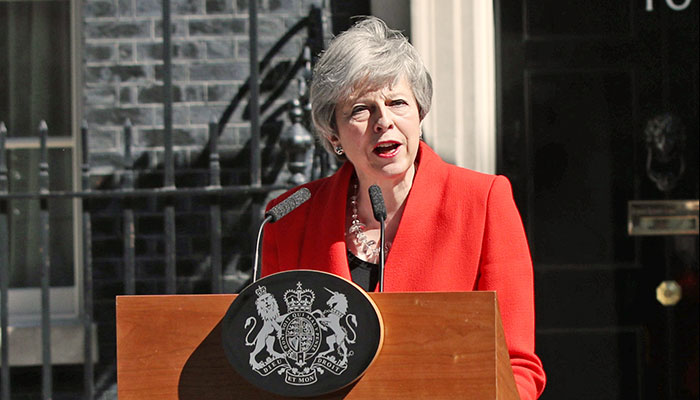 Speaking on the steps of Downing Street, an emotional May said the job had been the "honour of my life" and expressed "enormous gratitude" for having the opportunity to serve her country.
She set the date of Friday 7 June for a formal resignation, with a subsequent leadership contest to begin the following week. She will remain in post while the leadership contest takes place.
"It is and will always remain a matter of deep regret to me that I have not been able to deliver Brexit," she added.
May has faced pressure to resign following a backlash against her "new Brexit deal" announced earlier this week. Commons leader Andrea Leadsom quit over the proposed deal on Wednesday night.
The outgoing prime minister lamented not being able to get a Brexit deal through parliament.
"I tried three times. I believe I was right to persevere even when the odds against success seemed high. But it is now clear to me that it is in the best interests of the country for a new prime minster to lead that effort."
Labour leader Jeremy Corbyn said: "The prime minister is right to have resigned. She has now accepted what the country has known for months: she cannot govern, and nor can her divided and disintegrating party."
May's cabinet colleagues were quick to praise her on Twitter following her announcement.
Foreign secretary Jeremy Hunt said May had been "a true public servant", while home secretary Sajid Javid claimed her dedication to her country had been "monumental".
I want to pay tribute to the PM today. Delivering Brexit was always going to be a huge task, but one she met every day with courage & resolve. NHS will have an extra £20bn thanks to her support, and she leaves the country safer and more secure. A true public servant.

— Jeremy Hunt (@Jeremy_Hunt) May 24, 2019
Nobody could have worked harder or had a greater sense of public duty than the Prime Minister. Her dedication in taking our country forward has been monumental. She has served her country with fortitude and we are grateful to her for it.

— Sajid Javid (@sajidjavid) May 24, 2019
Communities secretary James Brokenshire said he was "deeply saddened" by the announcement, adding: "Her decency, dignity, commitment to public service and determination to act in the best interest of the country define the character and special person she is."
Dave Prentis general secretary of Unison the union said: "Theresa May will go down in history as one of the worst prime ministers.

"She has done nothing to repair our broken public services, forgotten all about families struggling to get by, brutally mistreated the Windrush generation and woefully mismanaged the aftermath of the Brexit vote."