The number of people employed in local government plummeted to 2.04 million in December 2018, Office for National Statistics data released today showed.
This was a 10,000 (0.5%) drop compared to September 2018 and 44,000 (2.1%) down from December 2017, according to the stats.
While numbers of local government workers have fallen for a 34th consecutive quarter, central government employees has reached a record high – 3.17 million people.
Central government employment has shot up by 24,000 (0.8%) compared with September 2018 and up 104,000 (3.4%) since December 2017.
The ONS said the contrasting trends come as a result of schools in England converting to academies, meaning local government employees are transferred to central government.
"The latest estimates show a continuing trend of more people employed in central government and fewer people employed in local government, due mainly to some local authority schools in England converting to academy status," the ONS said.
In December 2018, academy conversions accounted for 11,000 employees over the quarter and 57,000 over the year, the ONS estimated.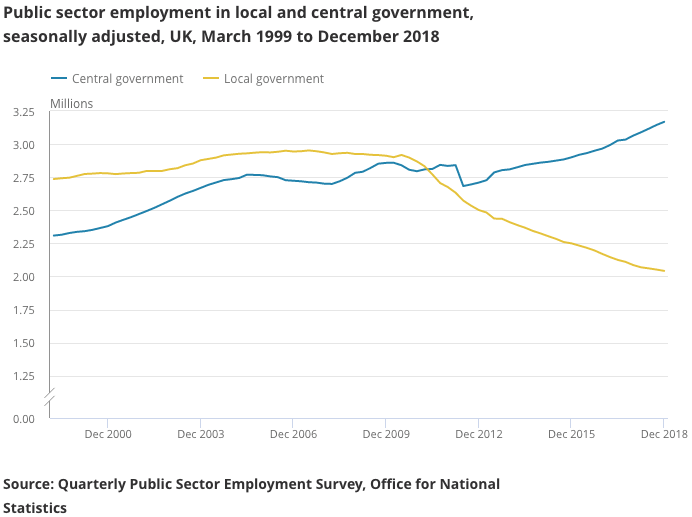 Graeme McDonald, managing director of the Society of Local Authority Chief Executives, said: "At a time when rising council tax bills will be dropping on residents' doormats, some might be under the impression that local government is expanding.
"But these figures show that councils have lost one in three of its workforce over the last decade, while demand for services continues to increase."
The data also showed record levels of employment in the NHS, with the workforce growing by 5,000 since September 2018 and 32,000 over the year December 2018. The NHS accounted for 31.1% of all people employed in the public sector in the UK.