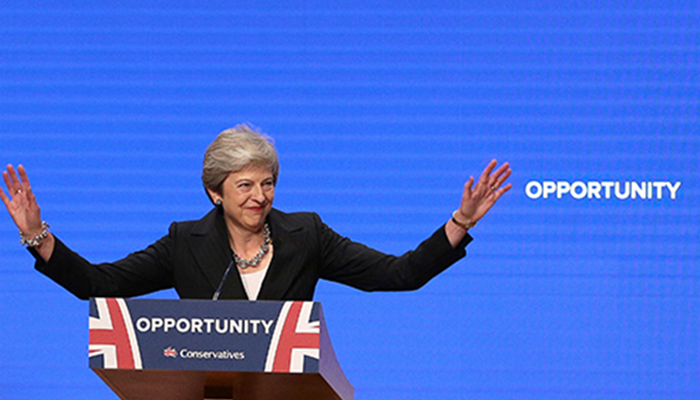 CIPFA chief executive Rob Whiteman has tweeted that lifting the HRA borrowing cap could "transform council house building for the first time in 30 years and restore supply side failure".
Abolition of the housing borrowing cap can transform council house building for the first time in 30 years and restore supply side failure. Huge and welcome news if no strings attached! @theresa_may @mhclg @hmtreasury

— Rob Whiteman (@RobWhiteman) October 3, 2018
May told the conference: "There is a government cap on how much they can borrow against their housing revenue account assets to fund new developments.
"Solving the housing crisis is the biggest domestic policy challenge of our generation.
"It doesn't make sense to stop councils from playing their part in solving it.
"So today I can announce that we are scrapping that cap."
Just weeks before chancellor Philip Hammond's autumn Budget, the prime minister also said "austerity is over" and spending would go up for public services.
Although, she suggested this might not take effect until the Spending Review next year, and after a "good Brexit deal for Britain". In her speech she confirmed a 'no-deal Brexit' was not being taken off the table.
"Britain isn't afraid to leave [the EU] with no deal if we have to," she said.
But she told her audience in Birmingham that there although there would be "no return to the uncontrolled borrowing of the past" the "British people needed to know that the end is in sight".
"A decade after the financial crash, people need to know that ... austerity ... is over and that their hard work has paid off," she said.
"When we've secured a good Brexit deal for Britain, at the Spending Review next year we will set out our approach for the future.
"Debt as a share of the economy will continue to go down, support for public services will go up."
In response to the scrapping of the cap, Polly Neate, chief executive of homelessness charity Shelter, said: "If these reforms announced today liberate local authorities from the restrictions they have faced then we think they could build up to 27,500 new social homes each year.
"Scrapping the borrowing cap lays down the gauntlet to local authorities to bring forward home-building plans – no more excuses."
The Local Government Association has long called for the scrapping of the cap. Chair Lord Porter said May's announcement showed the government had "heard our argument that councils must be part of the solution to our chronic housing shortage".
"It is fantastic that the government has accepted our long-standing call to scrap the housing borrowing cap."
He added: "We look forward to working with councils and the government to build those good quality affordable new homes and infrastructure that everyone in our communities need."
Gavin Smart, director of policy and external affairs at the Chartered Institute of Housing, said: "This is excellent news and we look forward to seeing the detail.
"We have been calling on the government to lift the local authority borrowing cap to help councils build more genuinely affordable homes so it's great to see the prime minister listening to the voice of housing professionals."
Vince Cable , leader of the Lib Dems, also said: "We are pleased to see her finally lift the borrowing cap on councils so they can build houses, a policy I and my Liberal Democrat colleagues have pushed for in coalition."
On the end to austerity, Paul Carter, chairman of the County Councils Network and leader of Kent County Council, said: "If austerity comes to an end, local government must be front of the queue for public spending, particularly county authorities, who are under the most severe financial strain."