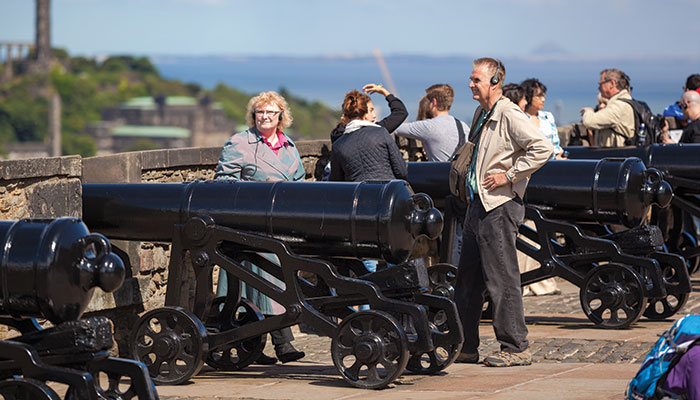 The Convention of Scottish Local Authorities said councils should have the power to introduce a transient visitor levy to alleviate the pressure placed by tourism on the environment and public services.
The UK is one of nine EU countries currently that does not impose an occupancy tax on visitors. However, primary legislation would be required to introduce a tourist levy, and the Scottish Government has long been opposed to such a move because of the potential impact on visitor numbers.
Gail Macgregor, resources spokesperson for Cosla, said Scotland had to become more innovative about funding public services, and that in private discussions finance secretary Derek Mackay had been "a little more open minded than he was before" to the principle of a discretionary local tax.
"What we are asking for today is not a national tax, but a tax that could be introduced locally if the circumstances are right and if councils in their own area think that it is the proper thing to do," she said.
"The cost of maintaining the local environment and public services, which draw tourists, falls heavily on the public purse. Sustaining this is at significant risk without new ways to invest."
The next step would be to work with the tourism sector to allay its concerns, she said.
A debate is already underway with Edinburgh hotels over how a levy would work in practice in Scotland's capital, following the decision of the city council to push ahead with the plan last month.
Council leader Adam McVey said a tax on visitors would give the city the opportunity to maintain the success of its tourism sector.
"Our research demonstrates that not only is a levy unlikely to adversely affect Edinburgh's hotel trade, but that handled correctly it could help to secure the ongoing sustainability and health of tourism in the city," he said.
Cosla president Alison Evison said a levy would strengthen local democracy and form the first step towards "full fiscal empowerment" for Scottish councils.
"The idea of a levy or tax on visitors is increasingly common across the world, and we are asking the Scottish Government to grant councils the same power here in Scotland," she said.
However, a Scottish Government spokesperson said there were no plans to introduce a visitor levy on the tourism sector, which it said was already subject to the second highest VAT rates in Europe.
"In partnership with Cosla , our Local Governance Review is now engaging widely on strengthening local decision-making and how public services work together to drive growth – and where we would welcome further discussion about revenue raising powers," he said.