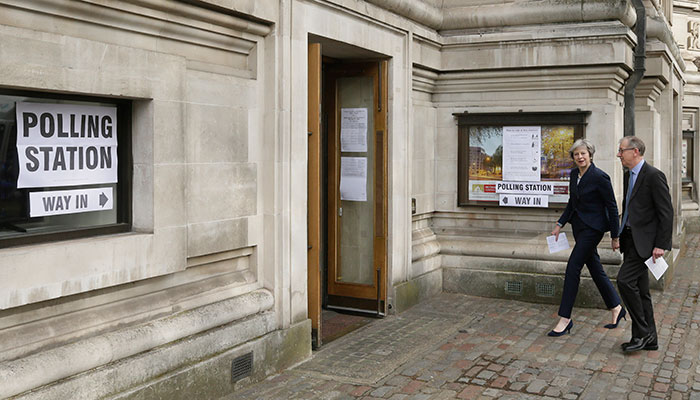 Credit: Press Association
Labour has failed to take control of key London targets in the local elections but has remained strong in the North West – and taken Plymouth.
Westminster, Hillingdon and Wandsworth have stayed under Conservative control, despite pre-election suggestions that Labour could win those boroughs.
Speaking in Wandsworth this morning, Theresa May said: "Labour thought they control, this was one of their top targets and they threw everything at it - but they failed."
The Conservatives also won in the borough of Barnet, initially seen as Labour's best chance to dislodge the Tories in London, where there was previously no overall control. It is believe accusations of anti-Semitism in Labour has cost the party in this borough, as it has one of the UK's largest Jewish populations.
In Kensington and Chelsea, the borough torn apart by the Grenfell Tragedy, Conservatives fought off pressure from Labour to retain the council, losing just one seat.
Before polling day, pollster Robert Hayward told PF: "I thought Grenfell might cause problems previously - I think they will lose a few seats but I think they will hold on."
Labour took Plymouth from the Conservatives and the Tories relinquished control of Trafford, which is now under no overall control.
The Midlands proved difficult for Jeremy Corbyn's party, as they lost eight seats in Nuneaton and Bedworth, and three seats in Derby, leaving both authorities under no overall control.
John McDonnell told the BBC: "We never said it would be a wipe-out [in the local elections], we said we want steady gains - I think that's what we are getting."
Labour has consolidated support in North West England, retaining control of councils such as Liverpool, West Lancashire and Wigan.
Conservatives have benefitted from the collapse of the UKIP vote in places like Basildon and Peterborough.
In Basildon, UKIP lost 10 councillors, meaning that they now have only five left in the council, while the Conservatives have gained five to take the council from no overall control with 23 councillors.
The Liberal Democrats have taken back control of Richmond from the Tories, in a result which was forecasted by experts before the elections.
Vince Cable's party also managed to hold onto their only existing London council - Sutton.
Eyes will now be on Kingston upon Thames, where the Liberal Democrats were also expected to take over from the Conservatives.
Lib Dem leader Vince Cable said: "These results show a return to three party politics and a strong future for the Liberal Democrats.
"And there is still much to look forward to today, with more gains to come.
"These elections represent an important step in our re-establishment as a political force."
Jonathan Carr-West, chief executive of the Local Government Information Unit, said: "We've only seen a few councils change hands at this stage in the results but at present it looks like a better night for the Conservatives than many would have anticipated, while Labour results have not quite lived up to expectations.
"Outside London the picture is one of Conservative consolidation. In places like Swindon, Nuneaton, Basildon and Southend, Labour need to win if they are to win a general election but the Conservatives are tightening their grip."
UPDATE at 5:00pm on 08/05/18:
To round off our coverage, below is a table with the final results for the local elections 2018.
| Party | Number of councillors elected | +/- | Number of councils controlled | +/- |
| --- | --- | --- | --- | --- |
| Labour | 2,350 | +77 | 74 | 0 |
| Conservative | 1,332 | -33 | 46 | -2 |
| Liberal Democrats | 536 | +75 | 9 | +4 |
| UKIP | 2 | -123 | 0 | 0 |
| Greens | 39 | +8 | 0 | 0 |
UPDATE at 10:00am on 08/05/18:
The Conservatives' victory in Pendle Council was shrouded in controversy due to the reinstatement of a suspended councillor.
Rosemary Carroll was suspended in August 2017 for sharing a racist tweet, but she was reinstated on Friday giving the Conservatives the one extra seat needed to take the council from no overall control.
UPDATE at 5:05pm:
Lib Dems take Kingston upon Thames from the Conservatives. They now control neighbouring councils Richmond, Kingston and Sutton.
Lib Dems take Kingston! Amazing work @KingstonLibDems. #LibDemsWin #WinningHere pic.twitter.com/31PFckzzWo

— Liberal Democrats (@LibDems) May 4, 2018
UPDATE at 4:50pm:
Labour holds both Birmingham and Manchester.
UPDATE at 3:50pm:
Mayoral Contests
Labour's Dan Jarvis is elected Sheffield City Region mayor.
Congratulations @DanJarvisMP, Labour's new Mayor for Sheffield City Region. Enjoyed working together in Labour's Shadow Justice team - Looking forward to working together, again, in his new role. https://t.co/IIevvTI1m6

— Sadiq Khan (@SadiqKhan) May 4, 2018
UPDATE at 3:05pm:
Another victory for the Lib Dems- they have taken control of South Cambridgeshire from the Conservatives.
UPDATE at 2:02pm:
Lib Dems have taken Three Rivers in Hertfordshire, which was previously no overall control.
UPDATE at 1:38pm:
Pendle, which was under no overall control, has been taken by Conservatives by one seat after readmitting a councilor who had previously been suspended for retweeting a racist tweet.
"People are now starting to see difference between a local and a national election" @garyporterlga tells @BBCNews in response #LocalElections2018 pic.twitter.com/InFcyW3AaH

— LGANews (@LGANews) May 4, 2018
UPDATE at 1:10pm:
Conservatives lose Mole Valley to no overall control.
UPDATE at 12:55pm:
Conservatives take Redditch from Labour- another midlands setback for Labour.
UPDATE at 12:36pm:
Labour gains Kirklees Council from no overall control- they last controlled the council in 1999.
UPDATE at 12:18pm:
Mayoral Contests
Labour's Damien Egan storms to victory in Lewisham with 30,000 votes more than his nearest competitor.
Labour's John Biggs has been elected mayor of Tower Hamlets with a majority of 27,000.
In Watford, Liberal Democrat Peter Taylor has been elected as mayor.
Labour's Philip Glanville has been re-elected as mayor of Hackney.
Rokhsana Fiaz, of Labour, was elected in Newham.