A report produced by the CCN in collaboration with Grant Thornton, found that the average download speed for counties was 37.65mbit/s, which is below the national average of 45mbit/s.
Analysis of Ofcom data showed that in total 169 areas in England have broadband speeds below the national average. Of these, 83% are based in England's counties.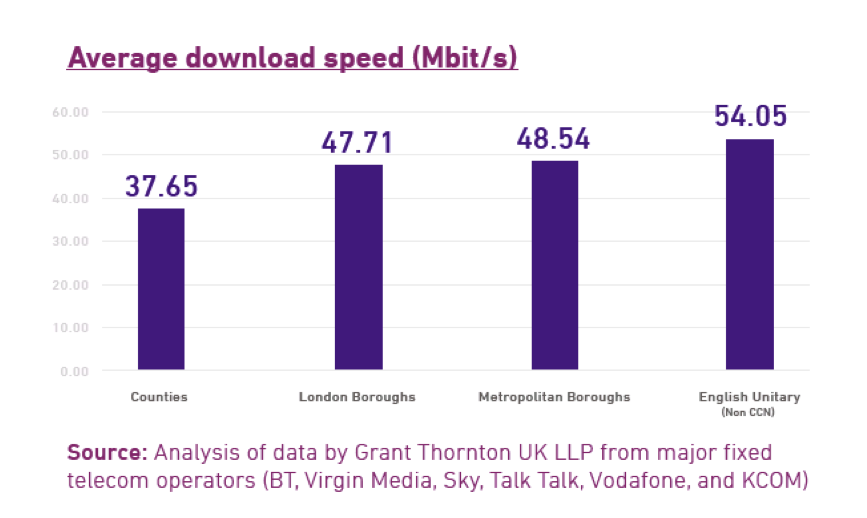 The report came as the Telecommunications Infrastructure Act took effect. The legislation exempts broadband providers from business rates on new fibre for five years.
It is hoped this will incentivise operators to invest in the broadband network.
Local government minister, Rishi Sunak said: "We want everyone to benefit from fast, affordable and reliable broadband.
"With this new legislation now in place, people can expect the rapid installation of new fibre, paving the way for better connectivity across the country."
Philip Atkins, CCN vice chair and leader of Staffordshire County Council, said: "While the government announced investment in this area, we remain concerned that digital infrastructure in counties isn't getting the attention it desperately needs.
"It cannot be right that in some areas, businesses and residents in a city less than ten miles down the road from a rural county benefit from average download speeds of more than three times faster.
"More investment is only part of the answer; county authorities need to be empowered as 'strategic authorities' alongside city region mayors, with devolved powers to drive forward infrastructure investment in their areas."
At the 2016 Autumn Statement, the government announced £1bn of new funding to boost the UK's digital infrastructure.
This included investment of £400m in a new Digital Infrastructure Investment Fund to support emerging fibre broadband providers.