Carillion was a construction contractor and a major supplier of outsourced services. It went into liquidation last month putting thousands of jobs and the delivery public services at risk.
A joint inquiry by the Commons work and pensions and business committees is probing the reasons behind the company's failure.
The inquiry today released documents showing the extent of the Big Four's involvement with Carillion in terms of work with the company directly, its pension schemes and the government.
These showed that KPMG, Carillion's main auditor, conducted business worth £20.2m.
PwC, now employed by Carillion's liquidator as a special manager, had contracts worth £21.1m, but less recently.
This was closely followed by EY at £18.3m. Only Deloitte did significantly less for the failed firm at £12.0m.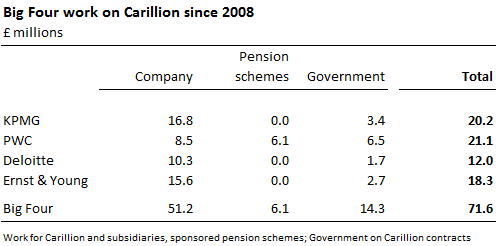 Labour's Frank Field, chair of the work and pensions committee, said: "The image of these companies feasting on what was soon to become a carcass will not be lost on decent citizens.
"We saw at the end of our evidence session that the former directors of Carillion are, unlike their pensioners, suppliers and employees, alright. These figures show that, as ever, the Big Four are alright too. All of them did extensive – and expensive – work for Carillion."
A letter to the inquiry from official receiver David Chapman said he awarded PwC the special manager role, as a firm capable of taking it on that was not conflicted. He said there was no time to run a tendering process.
Field said: "PwC managed to play all three sides – the company, pension schemes and the government – to the tune of £21m and are now being paid to preside over the carcass of the company as special managers.
"It was perhaps telling that, with their three fellow oligarchs conflicted, PwC were appointed to this lucrative position without any competition."
Business committee chair Rachel Reeves said KPMG, Carillion's auditor ever since it was spun out of the original Tarmac company in 1999, "has serious questions to answer about the collapse of Carillion".
She said: "Either KPMG failed to spot the warning signs, or its judgement was clouded by its cosy relationship with the company and the multi-million pound fees it received.
"For the sake of all those who lost their jobs at Carillion and in the interests of better corporate governance, KPMG should, as a bare minimum, review its processes and explain what went wrong."
A joint statement from the two committees said KPMG, which will appears before them on 22 February, had told MPs "they do not accept any suggestion of blame but assert they conducted their work 'appropriately and responsibly'".
It said KPMG gave a lengthy list of reasons why the contracts deteriorated.
"It is difficult to understand or believe these all occurred within such a short time period", the chairs said, noting an investor had told them: "Impairments to receivables on this scale do not typically occur overnight."
They added: "It does not appear [KPMG] pressed [Carillion] to disclose further information about adopting the new revenue recognition standard, despite the Financial Reporting Council stating in October 2016 that they expected most companies to have made 'substantial progress in their implementation of these standards'."
In a statement, PwC said it would continue to co-operate fully with the joint committee's inquiry.
"The Joint Committee's request for information dates back to 2008 and the majority of the work that PwC undertook directly for Carillion was carried out prior to June 2015 rather than in the last few months before its collapse," it said.
"Our technical skills and ability to deal with complex business problems led to our appointments to work for the government and the pension trustees.