The party today vowed to invest an extra £7bn in schools in England with the remainder going towards hospitals over the next five years, if it wins the general election on Thursday.
The Lib Dems said this would help address the £5bn maintenance backlog.
The party pointed to a 2016 NHS Digital report, which shows the Conservative government committed £350m for repairs in the NHS in 2015/16 [see table below].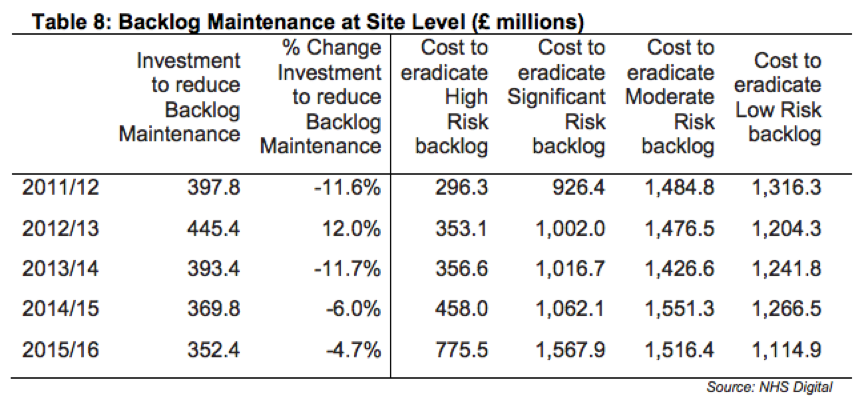 This infrastructure funding comes in addition to the extra £7bn the Lib Dems have committed to invest in schools over the next parliament and the £6bn more a year the party would invest in NHS and social care, as outlined in its manifesto.
Sarah Olney, Liberal Democrat, shadow education secretary, said: "Under Theresa May's Conservatives, our children are being taught in crumbling schools and our sick and elderly are being cared for in overcrowded hospitals.
"It doesn't have to be like this. We will invest an additional £7bn in our schools, enough to repair every school in the country."
Olney said the cash injection would allow school budgets to be spent on teacher wages, textbooks and equipment rather than building and facility repairs.
The party said most of the school estate is more than 40 years old, with an estimated 60% built before 1976, now needing repairs.
A recent report by Sir Robert Naylor showed that 18% of the NHS's estate was built prior to 1948, the year the health service was founded.
Lib Dem shadow health secretary, Norman Lamb, said the £10bn infrastructure funding for the NHS would represent capital investment to fix run-down hospitals, reduce overcrowding and modernize the health service rather than plugging holes in day-to-day spending.
The infrastructure funds are to be drawn from the £100bn package for infrastructure investment which was set out in the manifesto.
In response to the increased resources for England an additional £3bn would be provided by the Lib Dems in line with the Barnett Formula to be spent on capital projects in Scotland (£1.67bn), Wales (£965m), and Northern Ireland (£575m).